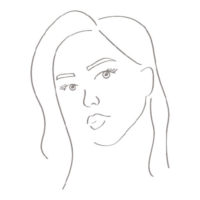 20th March, 2017
 VAMFF 2017: THE BEST OF BACKSTAGE BEAUTY 
I was going to title this "Turns Out You've Been Doing Your Lipstick Wrong This Whole Time" but then I realised I had become the clickbait monstress of my wildest fantasies. 
After a solid 5 years of covering the first 'F' of VAMFF (it stands for fashion, you sicko), I made the transition to strict beauty coverage this year. If there's one less I learn this week, it's that beauty coverage is far less stressful than fashion coverage- he models are sitting still and are bathed in ethereal light so taking a photo is far easier than attempting to shoot a moving target- also maybe not the best use of the word "shoot," but I digress. 
Here are my top 3 favourite looks from the week that was. The three looks that I gravitated towards the most were pretty extreme (as many a runway look is) but I can say pretty confidently that they'd be easy to water down for anyone who is, say, not planning on walking on a runway (just as an example). The key trends were dark lips (think jewel and wine tones), fresh skin (thrilled to see that, once again, dewy bases have won out over heavy cream contouring) and winged liner pared back with an otherwise bare face. It's also worth noting that the majority of the runway looks were created using product from Priceline, proving that you can look expensive without having to essentially throw your money in the face of department store assistant only to watch her light it on fire. Which is a plus.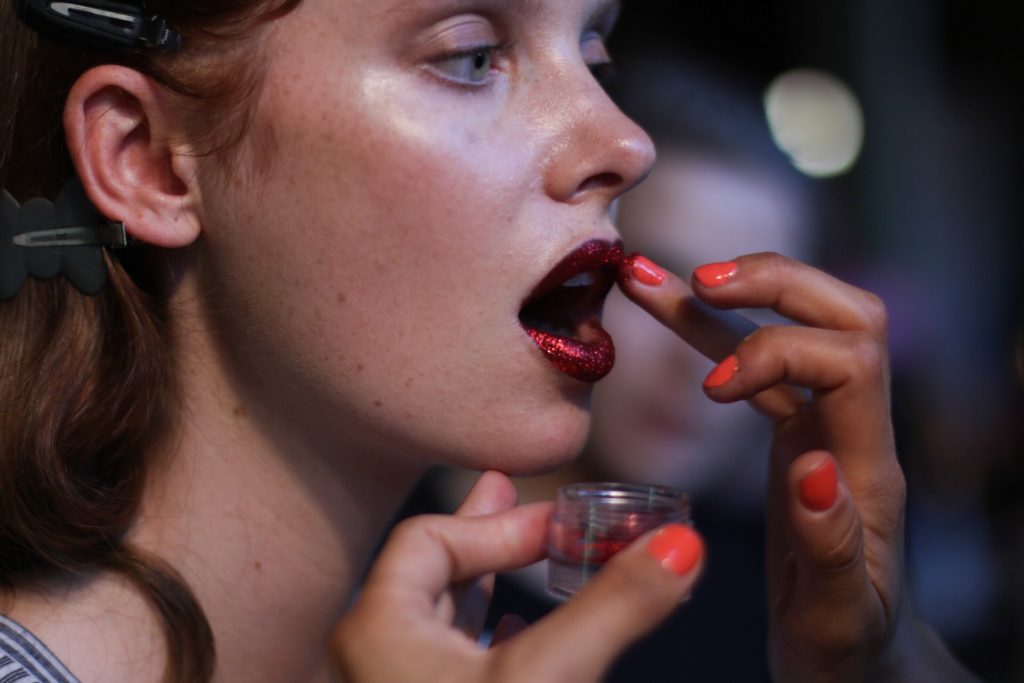 GLITTER LIPS FOR DAVID JONES
It was on night one of the festival that I realised that glitter can be used for a mature beauty look and is not, as I'd thought, exclusive to children's projects and fairy themed dress up parties. Who knew! As with every bold accent we saw this week, the key to keeping it modern (ie. not looking like stage makeup) is to pare it back with an otherwise bare face- dewy skin, a pearlescent highlighter (as opposed to a champagne hue) and brushed out brows.
What I loved most about seeing this look come together was that the glitter was literally just from a craft store. The key to this looking polished upon completion is to really match the base lipstick (look for one with quite a lot of tack to it as it doubles as an adhesive in this case) to the glitter itself. Glitter, as expected, comes in a far smaller colour range than lipsticks, so if you were going to recreate this one I'd suggest working back by choosing your glitter first then finding a matching lip colour. Finer grains of glitter work best here as they almost blend into the lip colour, rather than larger chunks.
Who'd have thought I'd ever be speaking this passionately about an item that takes 3 weeks to wash out from underneath your fingernails.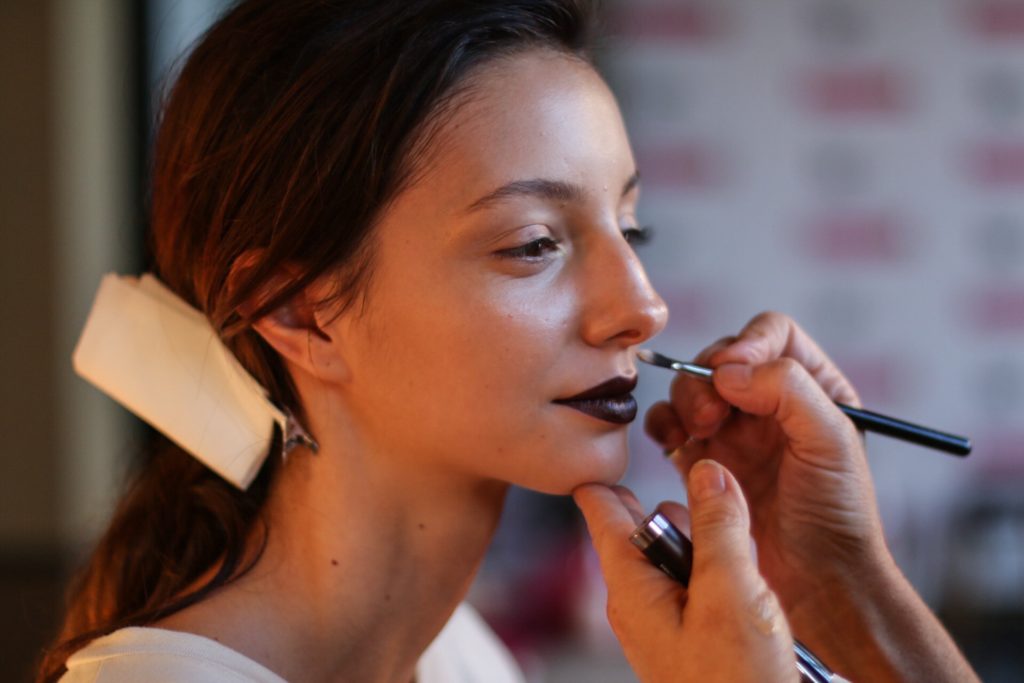 GOTHIC, OXBLOOD LIPSTICK FOR HARPER'S BAZAAR
I took this look to the people of Instagram to see how they'd categorise this lip colour- oxblood feels the most appropriate but still slightly too bright, chocolate isn't red enough yet wine seemed too red. It was a stressful caption to write. 
Created by actual genius Rae Morris, the key to this look is precision- the colour needs to be even across the lips, you mustn't stray outside of the lines, and your canvas must be prepped to perfection. Rae suggests prepping your lips with a balm while you do the rest of your makeup, that way the balm will have time to work its plumping and hydrating magic. Wipe your lips clean when the time comes, then apply the lipstick (in this case, Australis So Merlot) using a fine brush. 
Here's the part I found particularly interesting- FINISH with a matching lipliner. Use it to define the edges to make everything look extra precise, and to add definitely to the cupid's bow. Genius. This look was teamed with soft, whispy ponytails, which softened an otherwise dark and mysterious look and gave it an overall feeling of romance.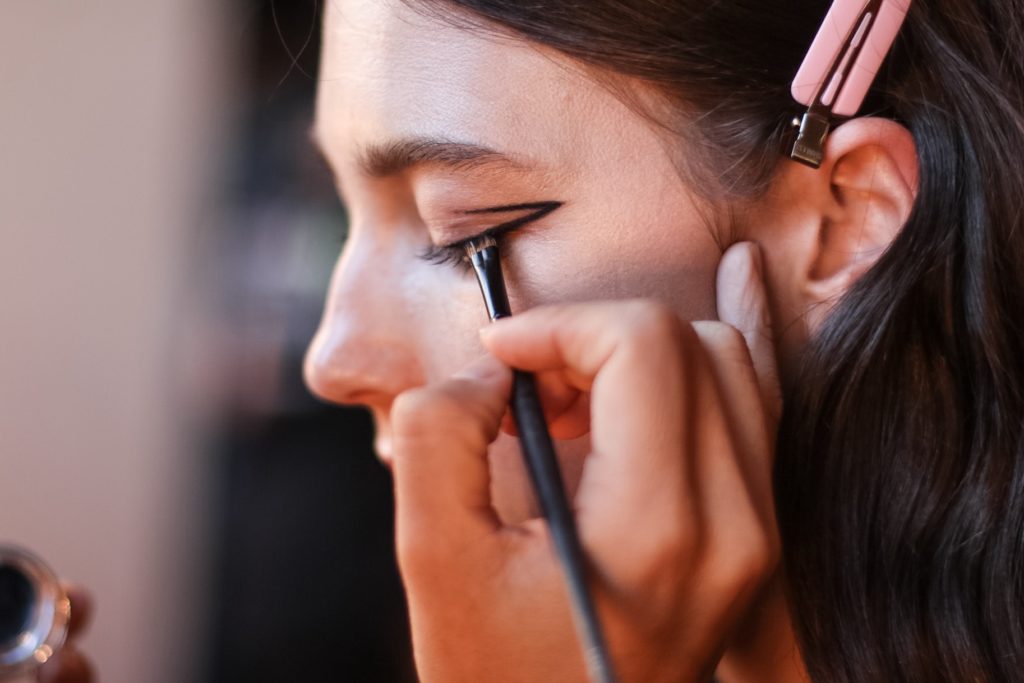 GRAPHIC EYELINER FOR SHOP 'TIL YOU DROP
This look truly flawed me. I'm good at a lot of things (and I'm really modest about them) but winged liner is not one of those things. The thought of applying two straight lines on each eye (I'm no mathematician but I think that brings the total up to something like four lines) and having said lines join up in a perfect triangle is a feat that has me shook. 
Here are Rae's tricks- map the shape out lightly using an eyeliner pencil first, THEN go in with your liquid liner. Like a child drafting in greylead first before using a ballpoint. But with less room for error and lead poisoning. 
Another tip that I should really be stealing for myself is to pop a bit of setting powder over your eyelids to keep the lid colour uniform. Your eyelids naturally have a few tones to them thanks to veins and that "skin" stuff I keep hearing about, so this will knock out the discolouration and create a workable base for your liner. 
All of these looks were pretty elevated for the runway, but I think what drew me to these three in particular was how easily I could see them being integrated into a daytime look. The key here is the work your beauty statement back with simpler elements before you live out your runway fantasy anywhere other than a runway. Please.