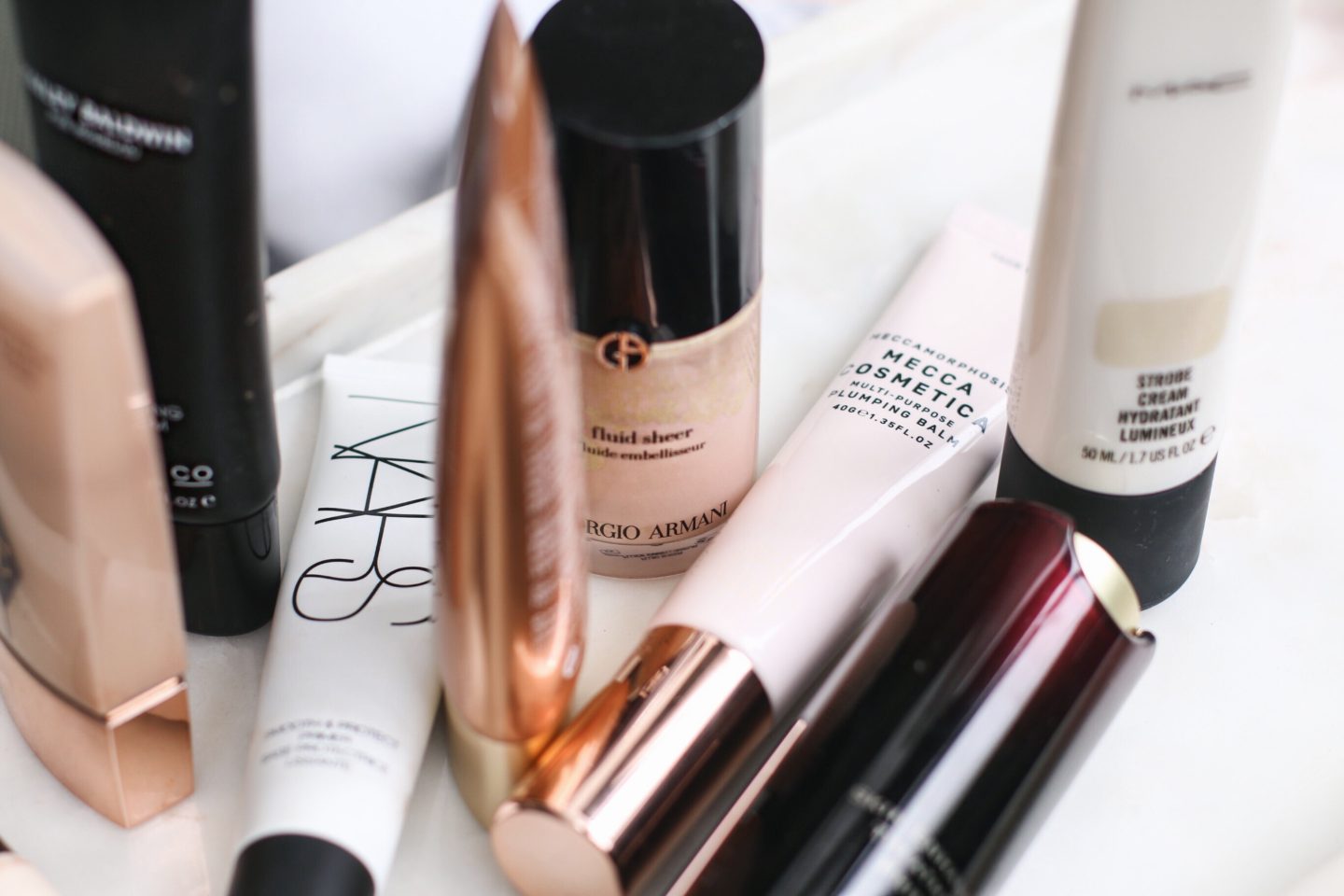 Hello beauty lovers and also people who were googling Gemma Ward and only just realised they'd landed in the wrong place. Happy New Year!
It is the tenth of the month which means I have had ample time to recovery from my New Year's hangover and return to delivering you delicious droplets of beauty info that you may or may not want or need.
I know most people wrap up the previous year with a 2017 Favourites post or similar, but I am a special little flower so I wanted to start the new year with a series on my all-time favourite products across a number of categories. Starting with primer.
When I'm explaining primer to straight men I liken it to paint primer- it's supposed to make the paint look better and smooth the base out. That's what primer does- makes everything BETTER. I have a whole host of favourite primers (because this is literally my job) and they are all amazing all-rounders, however some are better at certain things than the others are. Like humans or pets.
Here are my favourite primers, divided into categories dependant on what they're the best at.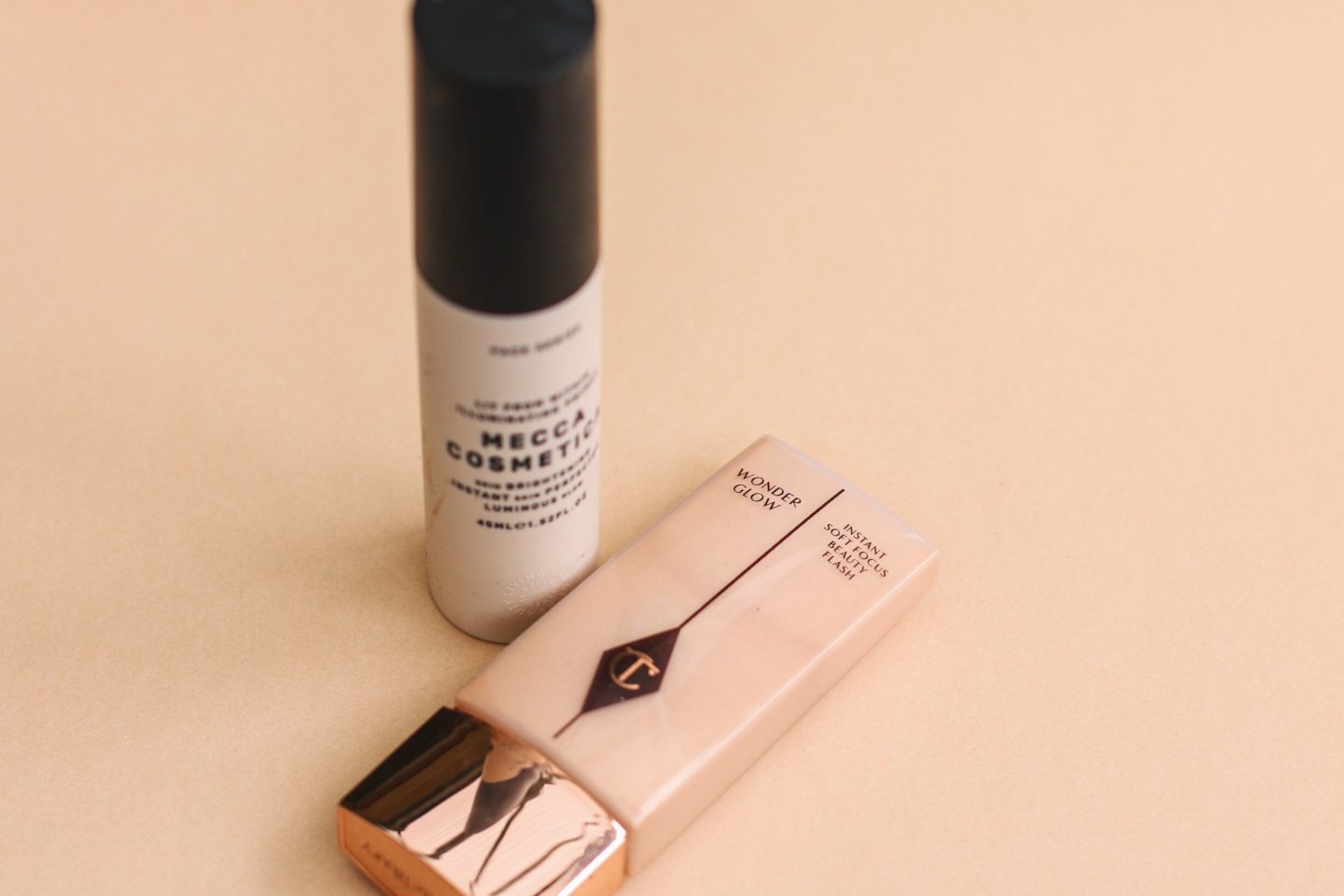 When I Want to Glow
I want to glow every day of my life, but some days I want to truly look like a radiant beacon of light. That's where these guys come in handy. The "glow inducing" primers tend to be my most reached for as I like to layer my highlighting products, and these give almost any foundation a "lit from within" finish. I should note that my skin is normal and errs towards dry, so I'm able to use this with a heavy hand without running the risk of looking too greasy. That said, I tend to keep highlighting primers away from the centre of the face just to be safe.
Mecca's Lit From Within Illuminating Primer was the first illuminating primer I tried, and the colour became so popular that Mecca have since developed it into cream, liquid and powder highlighters. I'd describe it as a cool, rose gold highlighter with a bit of frost to it.
If you prefer more of a warm tone, I'd opt for Wonder Glow by Charlotte Tilbury– I tend to switch between this and the aforementioned depending on whether I have a tan. CT says this is packed with "skincare benefits" in all her interviews which may be true, but I don't care much for combining makeup and skincare in most cases. It's just a really nice primer.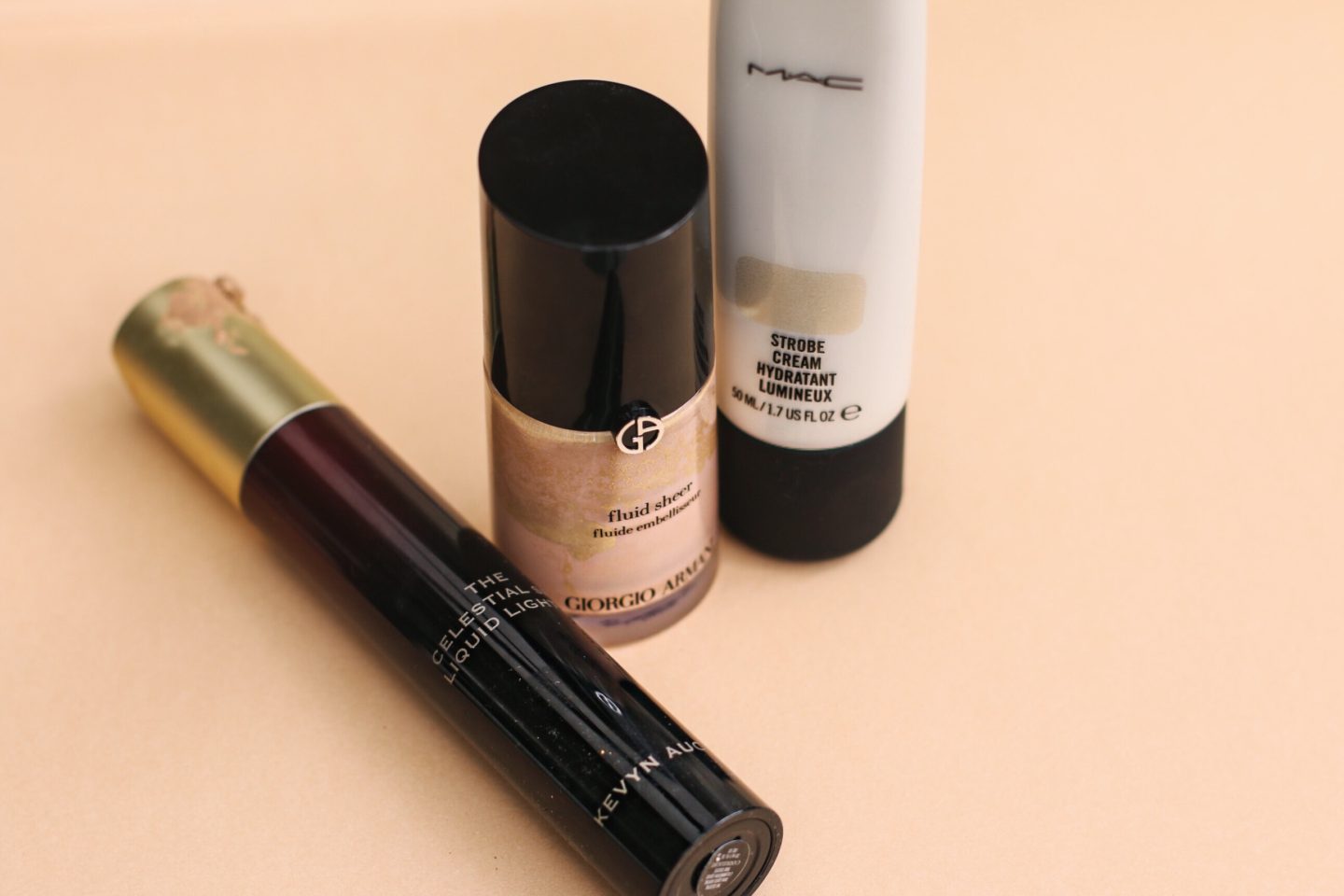 … No I Mean REALLY Glow
Keeping in mind the earlier "normal erring towards dry" situation, if you have oily skin I'd suggest applying these next few exclusively to your cheekbones. The "lit from within" power is just as good as the previous category, however I find that these guys amp it up a bit and perform just as well layered over the top of my foundation as highlighters or mixed in with foundation as they do as illuminating bases.
This is a large call, but Kevyn Aucoin Celestial Skin Liquid Lighting in Candlelight is my all time favourite makeup products across all categories. As a primer, mixed in with foundation or as a highlighter, this product performs. The colour is somewhere between a gold and a champagne, it illuminates without obvious sparkle and I've not tired of it after close to three years of use.
MAC Strobe Cream is the OG illuminating primer. I don't use a tonne of MAC, but this really is the goods. It's creamy but melts into the skin beautifully. I use the shade Goldlite, however all five shades are in a creamy pearl base and the colour refers to the shimmer pigments within it (so this one has gold pigments, Pinklite has pink pigments and so on). I always gravitate towards champagne colours because that's who I am.
Giorgio Armani make some of my favourite makeup, and Armani Fluid Sheer is one of those products I toyed with purchasing for years for fear of being disappointed, then bit the bullet, purchased and am now eternally grateful (this seems like a bit much when talking about makeup but I think we are past this). It's less creamy and more "fluid," as the name suggests, and it comes in more colours than I can wrap my head around but I use shade 2 which is, predictably, champagne. I wear this mixed in with my foundation as often as I wear it as a base.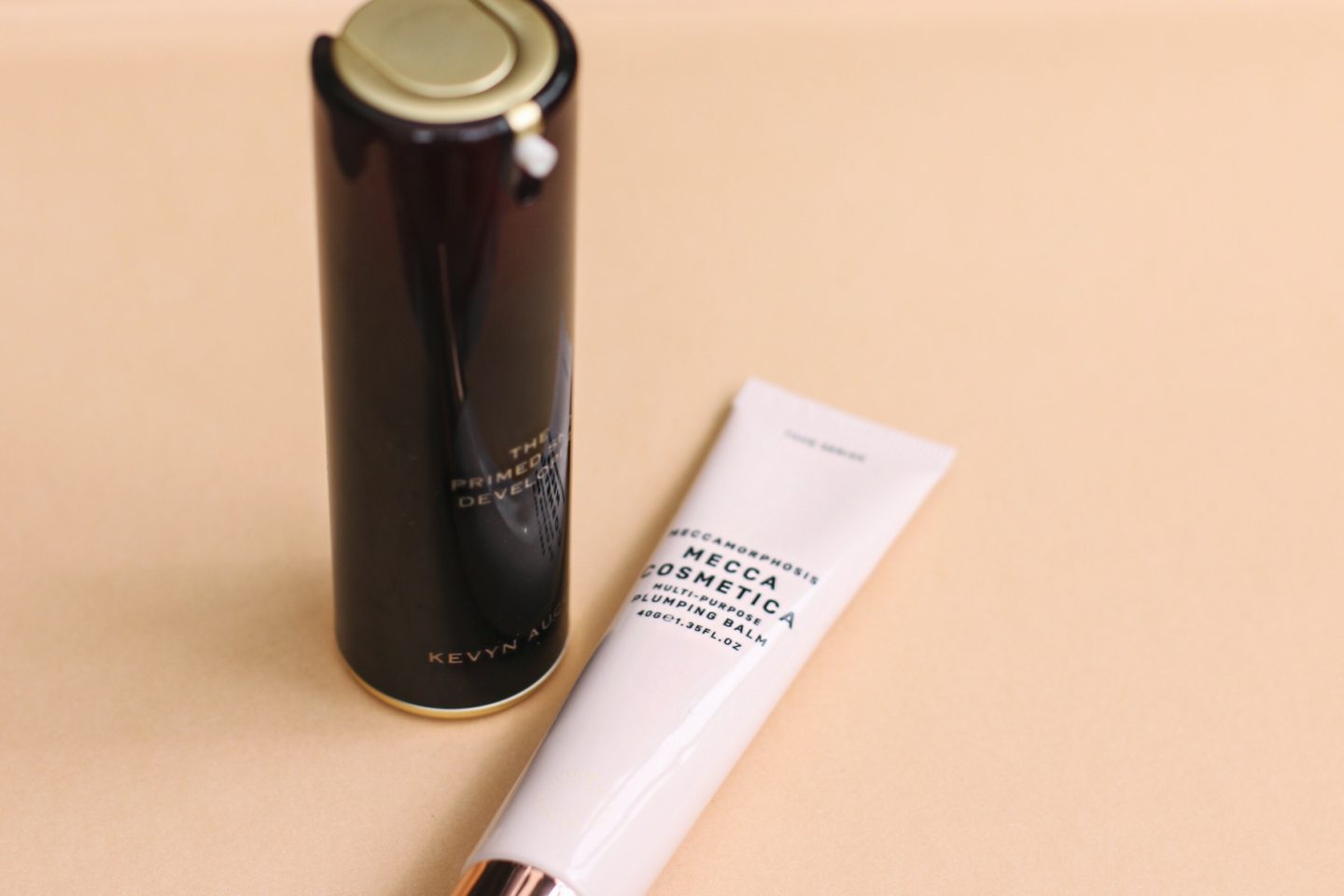 When I Want To Plump Everything and Look Awake and Juicy
You know those times when you are so tired/feral/hungover that no matter how much makeup you put on your skin still looks dull and sad? That's where these plumping babies come in handy.
Mecca Cosmetica's Multi-Purpose Plumping Balm does precisely what its name says it will do (aside from the various purposes- I can't imagine using this as anything other than a primer). It has the most subtle sheen to it to inject radiance into a sallow complexion, and it works more or less as a drink of water for your skin- plumping everything up and making you look better than you did even before your three day bender… or whatever else you were doing.
Much like the Plumping Balm, Kevyn Aucoin's The Primed Skin Developer only came into my life this year but it has changed the way I approach makeup on days when I look and feel a bit dusty. This has a tonne of Hyaluronic Acid in it which, if you've read any of my skincare posts, you'll know is my favourite ingredient (it holds 1000 times its own weight in moisture- hence the plumping). The texture feels somwhere between a gel and a serum, and it doesn't have any colour to it. It's fragrance free, so a good option for sensitive skin (I think it has a very strong "botanical" scent but it's free from artificial scents so I stand by my sensitive skin statement).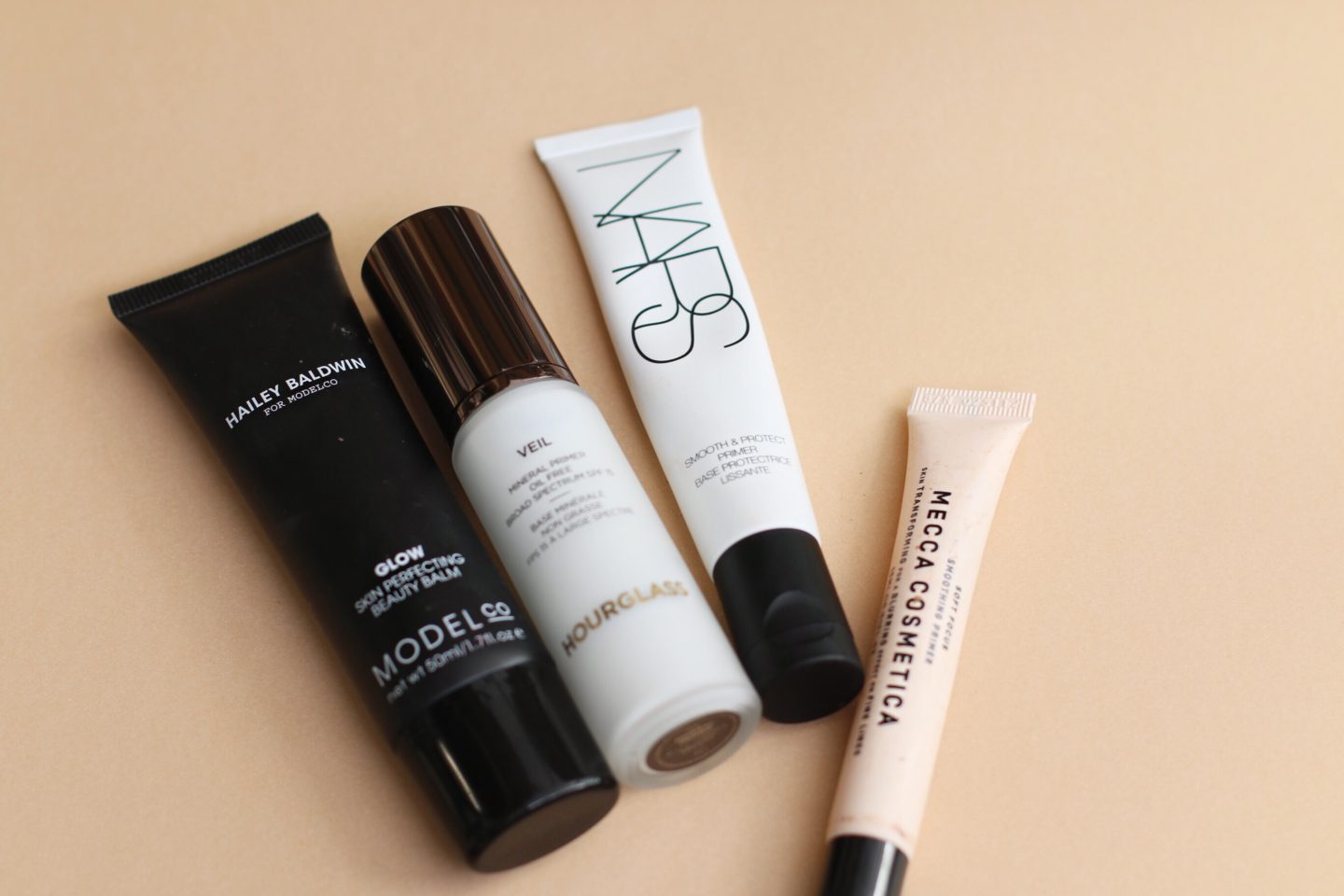 When I Need My Makeup To Stay Exactly Where It Is
These are the primers I opt for when I want to avoid looking like a sweaty betty with makeup running down my face and/or if I need my makeup to stay put for longer than 8 hours. These will also work for oilier skin types although, truth be told, the best primers for anyone with oily skin or particularly large pores are silicone based. You know that texture? It's not for me. These ones are though.
I think there's some kind of law against writing a primer edit without including Hourglass Veil Mineral Primer. It's unlike anything else I've ever used. It mattifies the skin without accentuating any dryness, it feels undetectable once applied and it will leave your makeup on for as long as you want or need it to.
I use and Hailey Baldwin for ModelCo GLOW Beauty Balm, NARS Smooth & Protect Primer and Mecca Cosmetica Soft Focus Smoothing Primer pretty interchangeably. I've grouped them together as they all have a bit of "tack" to them which I feel my foundation adheres to better than a lot of primers, and they all act a bit like a soft focus filter for your skin to blur pores and anything else you want blurred.
The All-Rounder/When I've Just Had a Peel
These are all all-rounders, and truth be told I wasn't sure where to put this. I just love it. Jane Iredale Smooth Affair Primer keeps my makeup in place, plumps everything up and just brightens everything. It's also the only primer (in fact, the only brand) that I every put on following a skin peel as it's just about the safest makeup on planet earth.
Next up- foundations? Maybe concealers? I don't know.