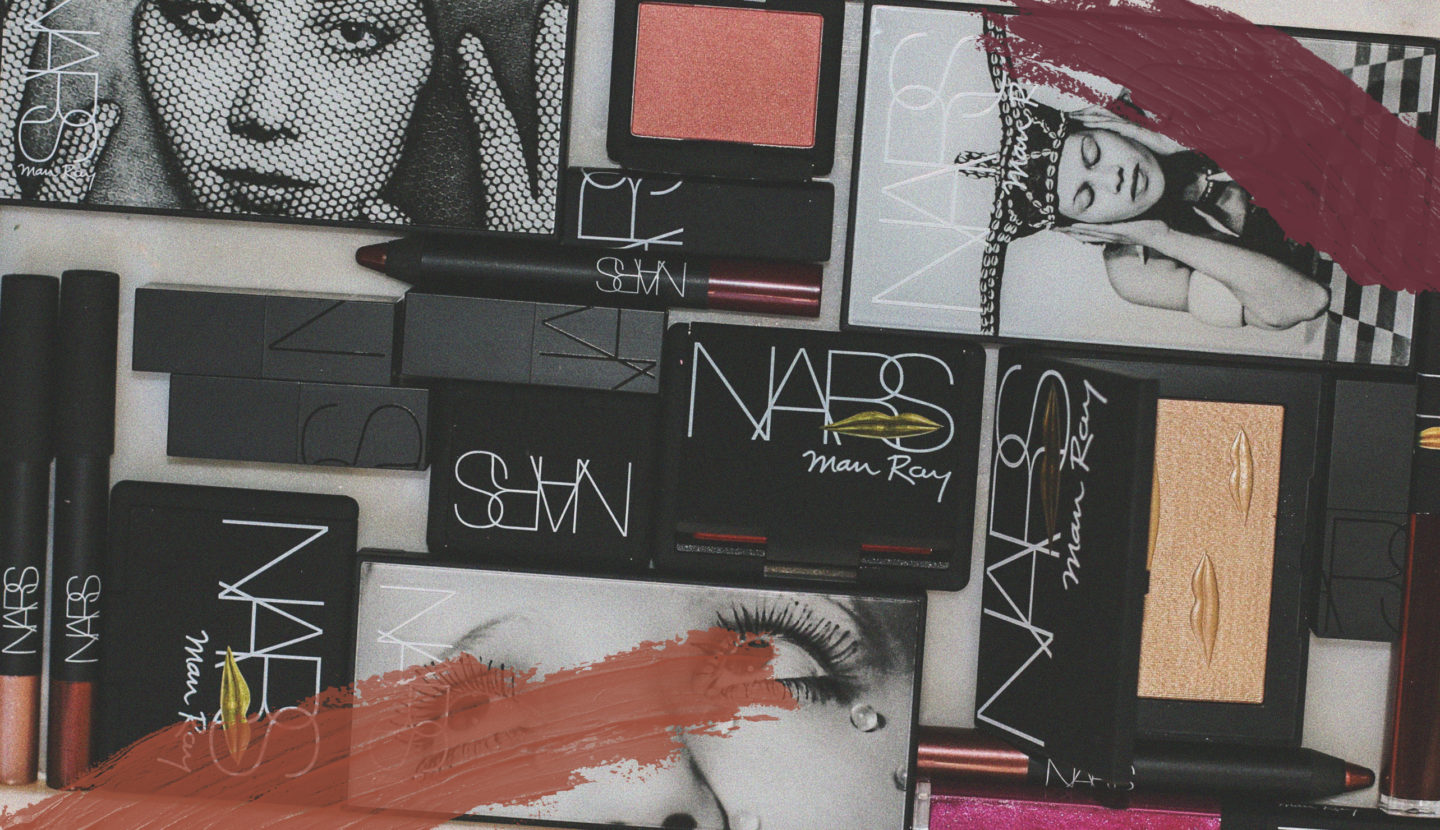 The best thing about the holidays is family. The second best thing is limited edition Holiday beauty collections.
I'm always excited by Nars holiday collections as rather than collaborating with a celebrity of the moment or going down an oft-treaded, obviously festive path, Francoise Nars (a photographer himself) draws inspiration from artists. Every holiday collection since I took an interested in beauty has piqued my interest as not only are the products beautiful, but they coerce me into researching artists, both present day and historic, I'd barely heard of.
For Holiday 2017, Nars has taken inspiration from Surrealist 1900s photographer Man Ray. A press release says "An imaginative palette of bolds and brights evokes the artist's legendary wit, while daringly dimensional effects paint an ode to originality," and I say "it's really bloody good." I have the bulk of the collection in my hot little hands, and before its launch into Mecca stores nationwide on November 9, I'm going to quickly run through my picks (most of these products will feature somewhere across my Christmas Gift Guides, so I'm not going into a great deal of detail here… because I'm lazy).
I'll start with cheek products because, as you guys know, I care more about complexion than I care about my own overall health.
The Veil Cheek Palette will retail at $71AUD and comes with a bronzer (Laguna in the Sun Wash Diffusing Bronzer formula which I believe I've mentioned before as I actually prefer this formula to the OG Laguna), and two new limited edition shades- Lovesick Blush in Satin Watermelon and Surreal Highlighter in Glistening Bronze Rose. It's a weighty palette with decent sized pans- I never find that bronzers housed within a palette are big enough for my preferred all-over bronzing brush, but this one is sufficient. I can say with 100% certainty that I'll be giving all three of these powders a good workout and this is one of my top picks from this collection. Nars cheek products reached cult status some time ago and with good reason.
On the highlighter front we have the Overexposed Glow Highlighter ($61AUD), which is a true gold highlighter (similar to Hot Sand which I'd say is more of a champagne) with warm undertones. It appears almost foiled in the pan but wears on the skin with far less shimmer than I'd first thought- which is a very, very good thing. This will be beautiful on most skin tones but I think the warmth will make it especially nice with a tan.
The final complexion product on my desk is the Blush in Fetishized ($44AUD), which is a limited edition BRIGHT coral shade (they've described it as tangerine but I find it too be much more pink)- far more wearable on the skin than it seems in the pan. The formula is the same as the OG Nars blushes, which are universally revered for a reason.
A must for serious beauty lovers is the Love Game Palette ($80). 12 shades in (generously sized pans given the price) ranging from shimmers to mattes to satins, neutrals to bronze smokes to brights. Another winner for Nars eyeshadow fans is the Glass Tears Palette ($71)- beautiful palette, but you don't need both this and the Love Game palette. While the pans are bigger in Glass Tears, the shade range is greater in Love Game.
The Man Ray collection also brings with it two limited edition Velvet Eyeliners- Nagoya, a royal purple, and Santiago, a cool brown ($35). I love these velvet formulas as they're perfect for sexy smudgy blending.
Rounding out the holiday eye offering is a new shadow duo called Montparnasse ($52), comprised of champagne and a deep plum. Although this duo is beautiful, I'd be opting for a palette with countless (not exactly "countless," I can definitely count them) more shades for less than twice the price. That's just me.
Two of four limited edition lip glosses are sitting on my desk- Off Limits, a shimmering fuchsia, and Kiki, a deep oxblood. The Photogloss Lip Lacquers ($37) are more pigmented than a regular gloss, almost more like a high shine liquid lipstick. There's some tackiness, as is to be expected with any gloss, but not uncomfortably so.
One of my genuine must-haves from this collection is the The Kiss Velvet Matte Lip Pencil Set ($71). I have these pencils in almost every colour and finish because they are truly amazing. This set contains four limited edition shades each with a shimmery finish despite being a matte formula, which sounds like a contradiction but they are extraordinary. Also great value for four pencils and a gold pouch.
Either of the Audacious Lip Coffrets (I have the Les Amourex set of nudes) is a bonafide collectors item- four lipsticks, housed in what can only be described as a snow globe without the snow ($80). A paperweight for beauty lovers. There's a nudes option and a reds option, so these probably only make sense if you genuinely love and wear lipstick, otherwise some of the shades in each set will be redundant.
Rounding out the Nars holiday gifting offering at the Love Triangles ($35). Each triangle contains a mini blush and a complementary mini audacious lipstick.
The Nars Man Ray Holiday 2017 collection will be available nationally in stores and online at Mecca Cosmetica from November 9.
This post has NOT been sponsored and all views are my own, however these products were gifted courtesy of Mecca Cosmetica.