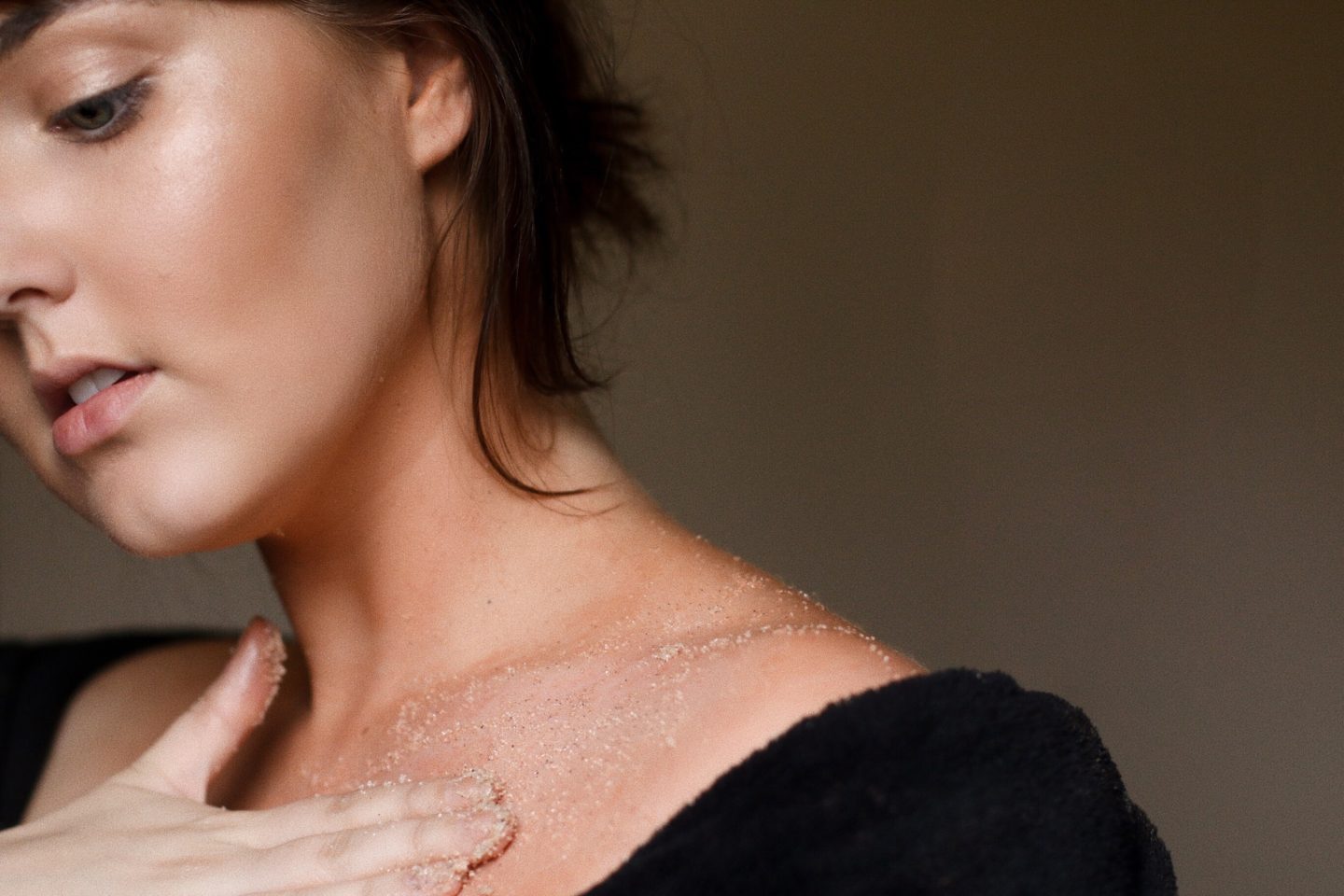 I made it widely known (read: repeatedly broadcast it on Instagram) that I preferred Frank Body's Shimmer Scrub formula over their original Coffee Scrub. No disrespect to the OG, however given that his shiny new sibling smelt of caramel, felt creamier and left my skin with a wash of shimmer it didn't feel like a fair fight.
I quite literally stockpiled this limited edition scrub. I'm lucky that my job is what my job is so I was sent a few bags as gifts from Franky baby, however I also bought myself about four bags for fear of running out.
A week ago, run out I did. The following day came the announcement that the Frank Body Shimmer Scrub is BACK, with three times the amount of shimmer (Why? Because Frank are one of those weird companies where when they get feedback from their customers, they actually action it. So weird).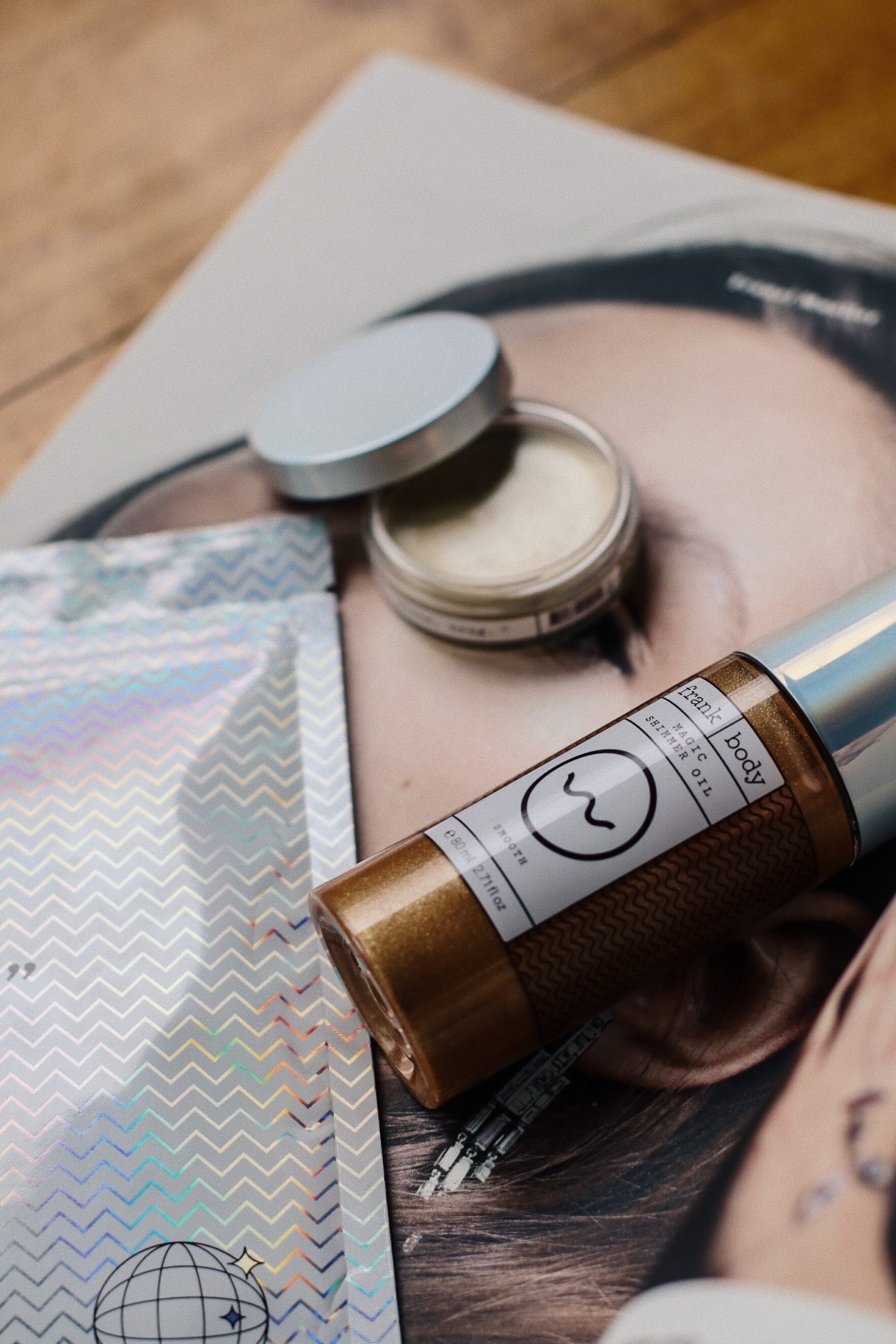 To coincide with the re-release of the new and improved Shimmer Scrub, Frank are releasing two brand spankin' new, equally shimmery products- a Magic Shimmer Oil and an Illuminator.
I loved the old Shimmer Scrub, however this new formula lives up to its promise- it does indeed deliver three times as much shimmer. The trick with this product is to just rinse it off, not to vigorously wash it off as that'll remove that sheen. I think, and I am happy to be corrected, the reason Frank received so much feedback on the last release was that people were expecting glitter as opposed to shimmer. This scrub will leave a your skin with a glow, and you will see the shimmer as the light hits it. I find this subtle enough for everyday, plus it scrubs while it hydrates- two elements that are usually mutually exclusive. Worth the waiting list and yet another product that I will be hoarding.
The Magic Shimmer Oil was the release I was most anticipating and it has lived up to my near-impossibly high expectations. I am MAD for a dry oil, shimmer or no shimmer (I've used Nuxe Huile Prodigieuse every day for about 2 and a half years), and this is up there with the best. The formula appears bronze in the bottle, but is colourless upon application (that colour is just the suspended Mica pigments). The oil, like almost all shimmery products including the Scrub, relies on Mica for its shimmer, which is a naturally occurring ingredient found in crystals thus falling in line with Frank's natural-ingredients-only ethos. It sinks into the skin in seconds and leaves zero greasy residue- it's almost undetectable on the skin until the light catches you. The shimmer, much like the scrub, is subtle, but where it differs from the scrub is that it's buildable. In the photo below, I've applied it to my shoulders and collarbones.
The real surprise package quality-wise for me was the Illuminator, as I am a highlighter snob and junkie. I had high expectations for this as I do with any Frank product, because I love Frank, however I kept said expectations within reason given that this is the brand's first foray into cheek colour of any kind (unless you're counting the tinted balms that were released just two weeks ago, which I do find perform very well on the cheeks. Not their soul purpose though). The formula is creamy and the colour is a somewhere between a pearl and a champagne. I find it applies best with the fingers, so it lends itself to an on-the-go application, and I'd confidently compare it to the RMS' cult Living Lumizer and the best dupe I've found for it, ModelCo's Hailey Baldwin Spotlight Highlighter. I'm about to run out of my beloved RMS, and I am happy to replace it with this Frank offering. THAT'S how good it is. I'm wearing it on my cheek bones, brow bone and cupid's bow in both the above and below photos.
I should note that while these products were all gifted, Frank have not sponsored this post nor have they even asked me to write it. The entire Frank Body shimmer collection is available for pre-order now on the Frank Body website, and will officially launch on November 3.