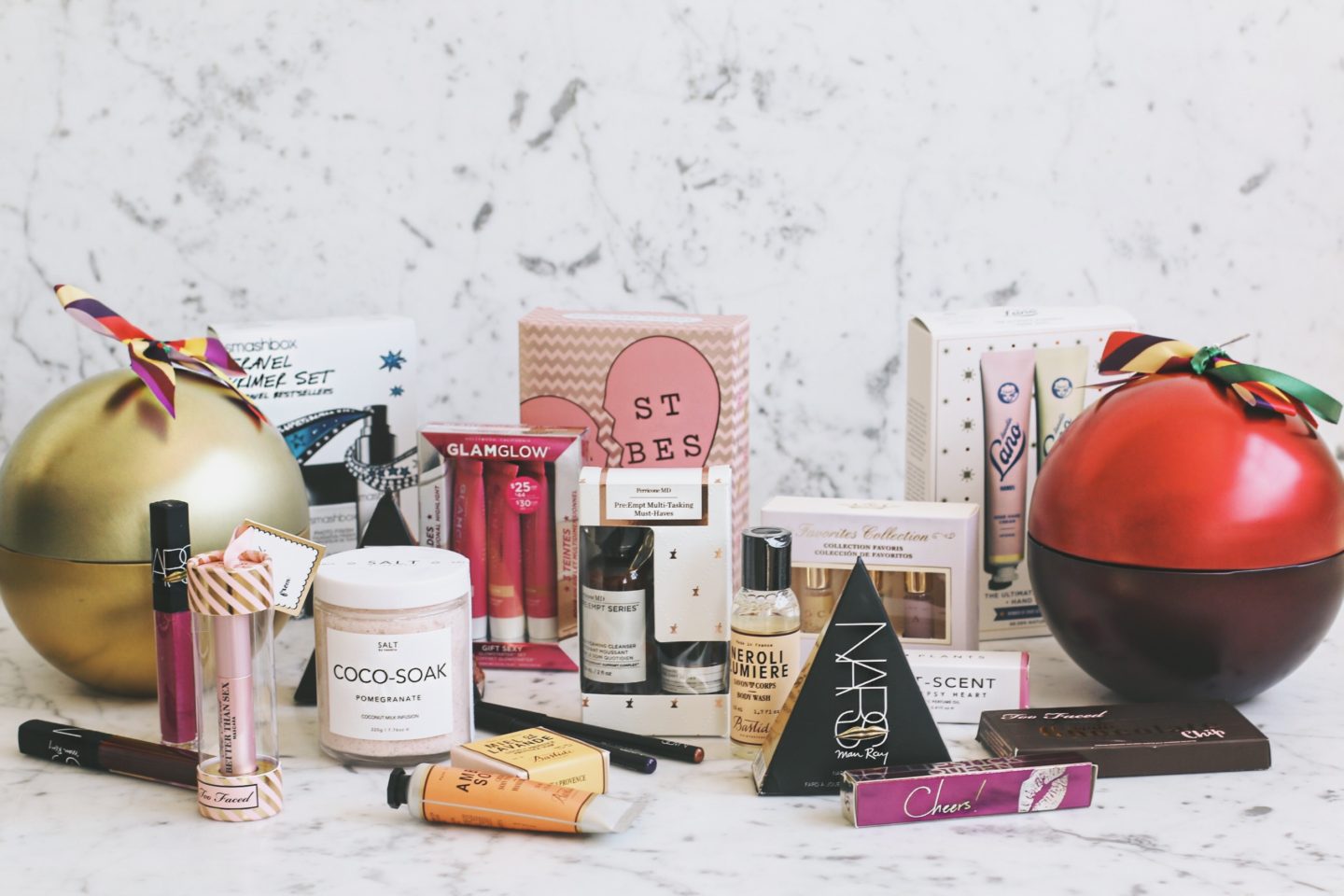 My philosophy on beauty gift giving, with "stocking stuffers" in particular, comes directly from Sali Hughes.
"My trick has always been to buy the smallest thing I can for my money." Rather than spending your budget on a cheap, oversized eyeshadow palette with 100 poorly pigmented colours or a wicker basket full of drugstore toiletries, put your cash towards something smaller and higher quality.
I wanted to put these gift guides together because I feel like there's a gap for them. I wanted to share my favourite products across a variety of brands representing every price range. I felt like there was a gap for a quality, beauty focused gift guide that didn't use stock imagery (because how can you even know if the writer has held the product in their hand if the image is pulled from the website), didn't lump all price ranges into the one guide (I know how much I want to spend on each person so I don't want to scroll through a gift guide trying to find products that suit my budget) and actually tells you something about the product and why it would make a wonderful gift (just naming the product and price strikes me as lazy and I find it extremely unhelpful). Every product here comes from a retailer or brand that I have used and worked with and there are no gifts here that I feel compromise on quality. None of this content is sponsored and every product is one that I would be thrilled to receive and would be proud to give to a loved one. I reached out to every brand and retailer included here because I love their products and wanted to share their Holiday offerings (I'm a sucker for anything limited edition).
I hope this is of use to you, whether you're shopping for others or if you need to forward this on to someone else as a not-so-subtle hint.
You can read my $40 – $75 Beauty Gift Guide here.
You can read my Luxury Beauty Gift Guide here.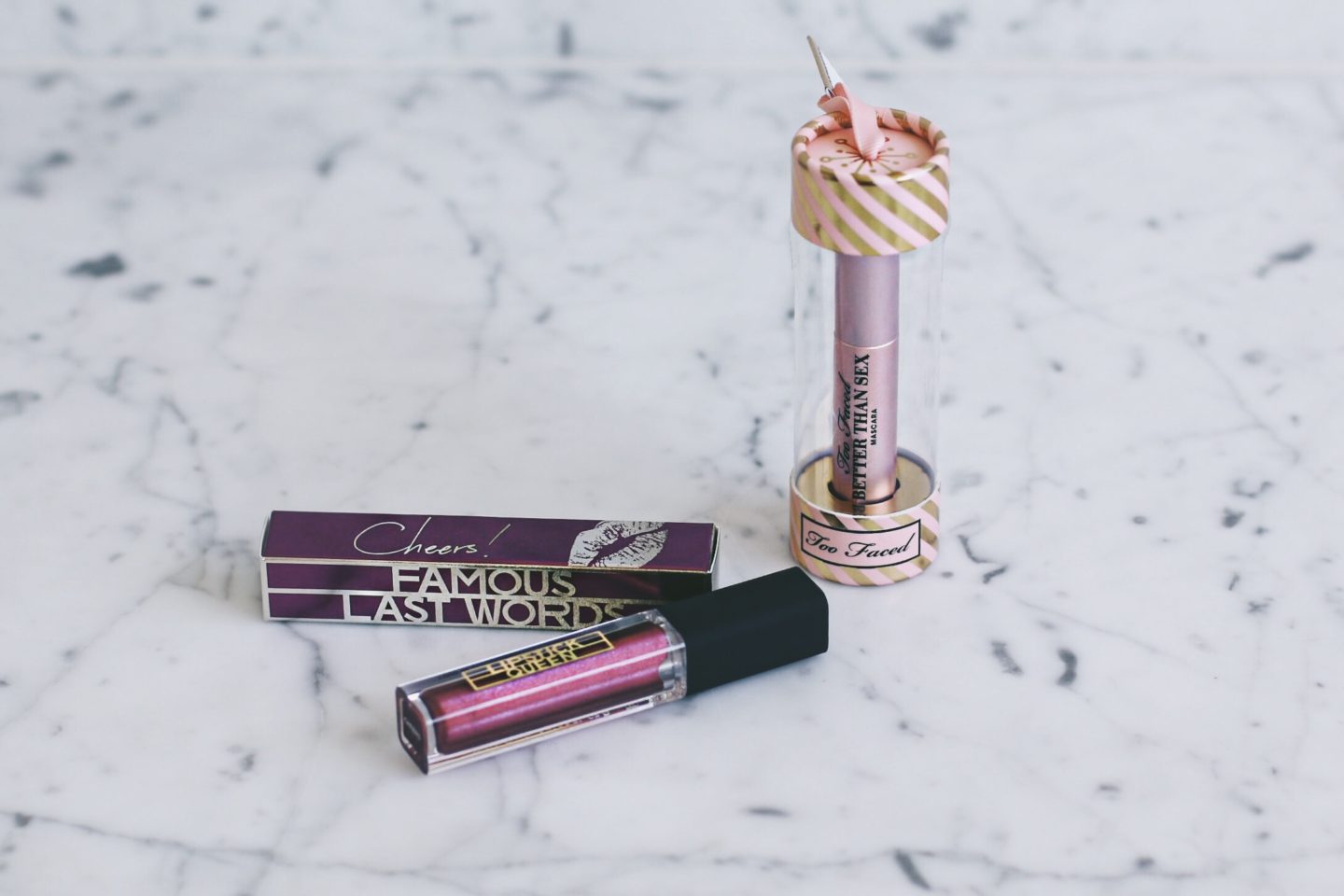 Lipstick Queen has a cult following among lipstick aficionados for good reason. The originators of the "Frog Prince" lippie (looks green in the bullet but applies as a rosy pink, Lipstick Queen are at the forefront of lipstick innovation. For the festive season they've introduced their Famous Last Words matte liquid lipstick in a limited edition holiday berry hue entitled 'Cheers!' It has a matte finish but is sprinkled with shimmer, which sounds contradictory and I find it to be very impressive. Perfect gift for that girl you know who loves lipstick and loves anything limited edition.
Shop here: Lipstick Queen Famous Last Words in Cheers!, $35
When I chat to other beauty writers or bloggers about their favourite mascaras, I can guarantee Too Faced's Better Than Sex Mascara will get a gig. For Christmas, they've released a mini version of their signature mascara in a limited edition festive ornament- the perfect Kris Kringle pressie or stocking filler because pretty much everyone wears mascara.
Shop here: Too Faced Deluxe Better Than Sex Ornament, $17
Makeup lovers love Nars, and with each Christmas comes a bigger and better Nars Holiday Collection (I've reviewed the full collection here). The collection has gift offerings spanning across all price ranges, but I have a few favourite stocking filler picks. The Love Triangles (I have the shades Orgasm and Barbara) each contain a mini blush and lipstick in some of the brand's most famous shades, making them the perfect stocking stuffer for the traveller with limited bag space, the Nars devotee who wants her favourite shades in her handbag at all times, or the makeup newbie who needs an introduction to the brand.
Shop here: Nars Love Triangles in Orgasm and Barbara, $35
The Nars Velvet Eyeliners are unbelievably creamy and I find they work as well for a precise line as they do when blended and smoked out, and the limited edition colours they've brought out for the Man Ray collection are heaven- Santiago is a chocolate brown that would work on almost all skin tones, while Nagoya is a bright Violet for anyone who loves to experiment with makeup.
Shop here: Nars x Man Ray Velvet Eyeliners in Santiago and Nagoya, $35
Nars Photogloss Lip Laquers, like all Nars lip products, wear incredibly comfortably on the lips with as little tack as possible as far as lip glosses go (you'll never find a completely non-sticky lip gloss unfortunately). The finish of their Man Ray offering is closer to a liquid lipstick than a gloss so they're highly pigmented. My favourites are Kiki, a rich burgundy, and Off Limits, a shimmering fuchsia.
Shop here: Nars x Man Ray Photogloss Lip Laquers in Kiki and Off Limits, $37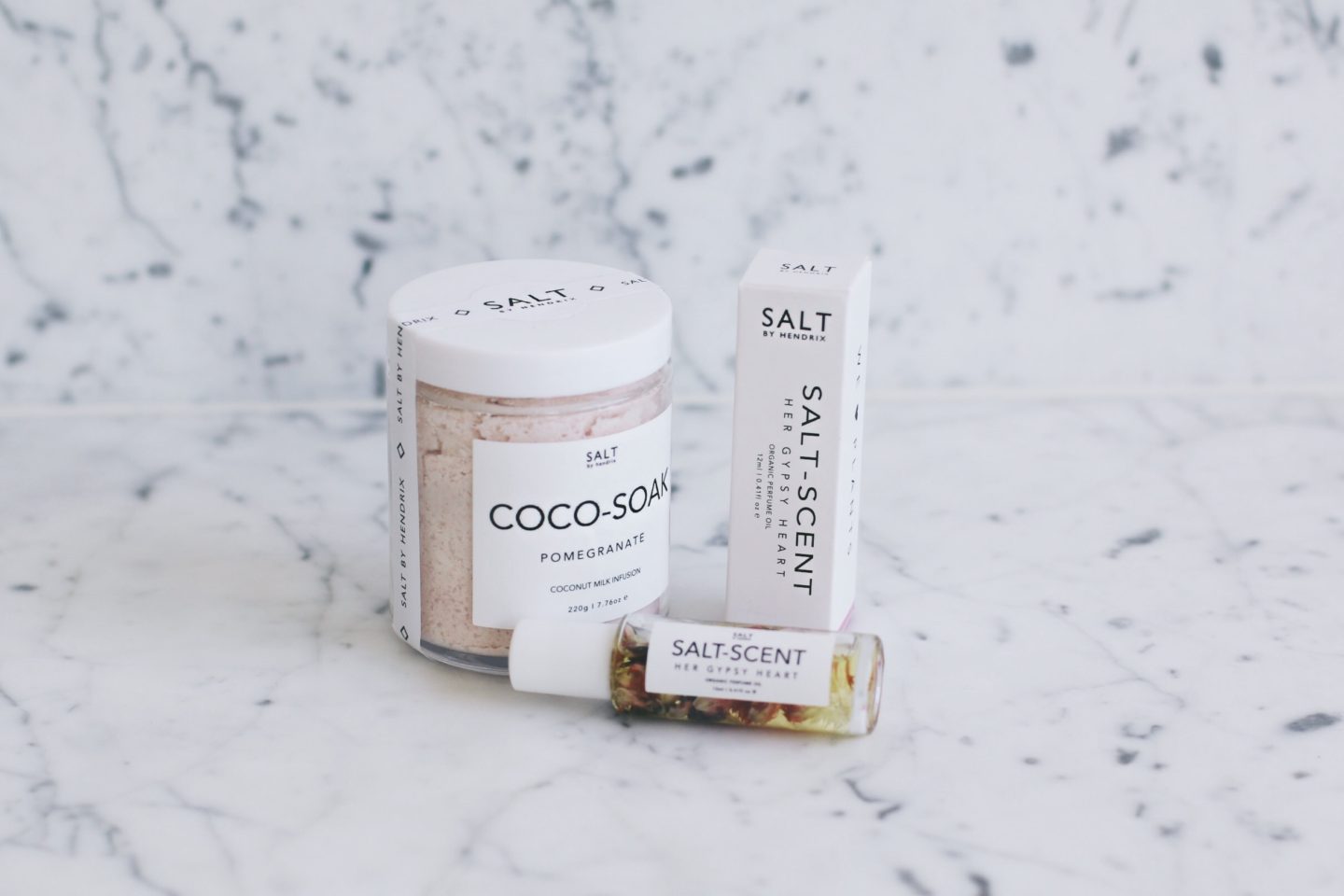 A gift limited to anyone with a bath comes from one of my favourite new Australian companies.  SALT by Hendrix' Coco Soak is a completely vegan bath soak that turns your soak into a milky spa treatment (coconut milk though because it smells delicious and, as mentioned, is Vegan). They make a few variations on this but I think the best gift would be Pomegranate for both its colour (looks prettier as a gift) and scent (because pomegranate). It's also a really impressive size, particularly for the price.
Shop here: SALT by Hendrix Pomegranate Coco Soak,  $24.95
2017 has reignited my love for roll on scents in the name of convenience, and I've found a new favourite in SALT by Hendrix Salt Scent in Her Gypsy Heart (florals, citrus and neroli oil). I would ordinarily advise against fragrance as a gift as it's a very personal thing, however this to me feels universally pleasing and the bottle is filled with petals so it really is a very beautiful gift. Also really nicely priced and toxin free- a rarity for fragrance.
Shop here: SALT by Hendrix Salt Scent in Her Gypsy Heart, $24.95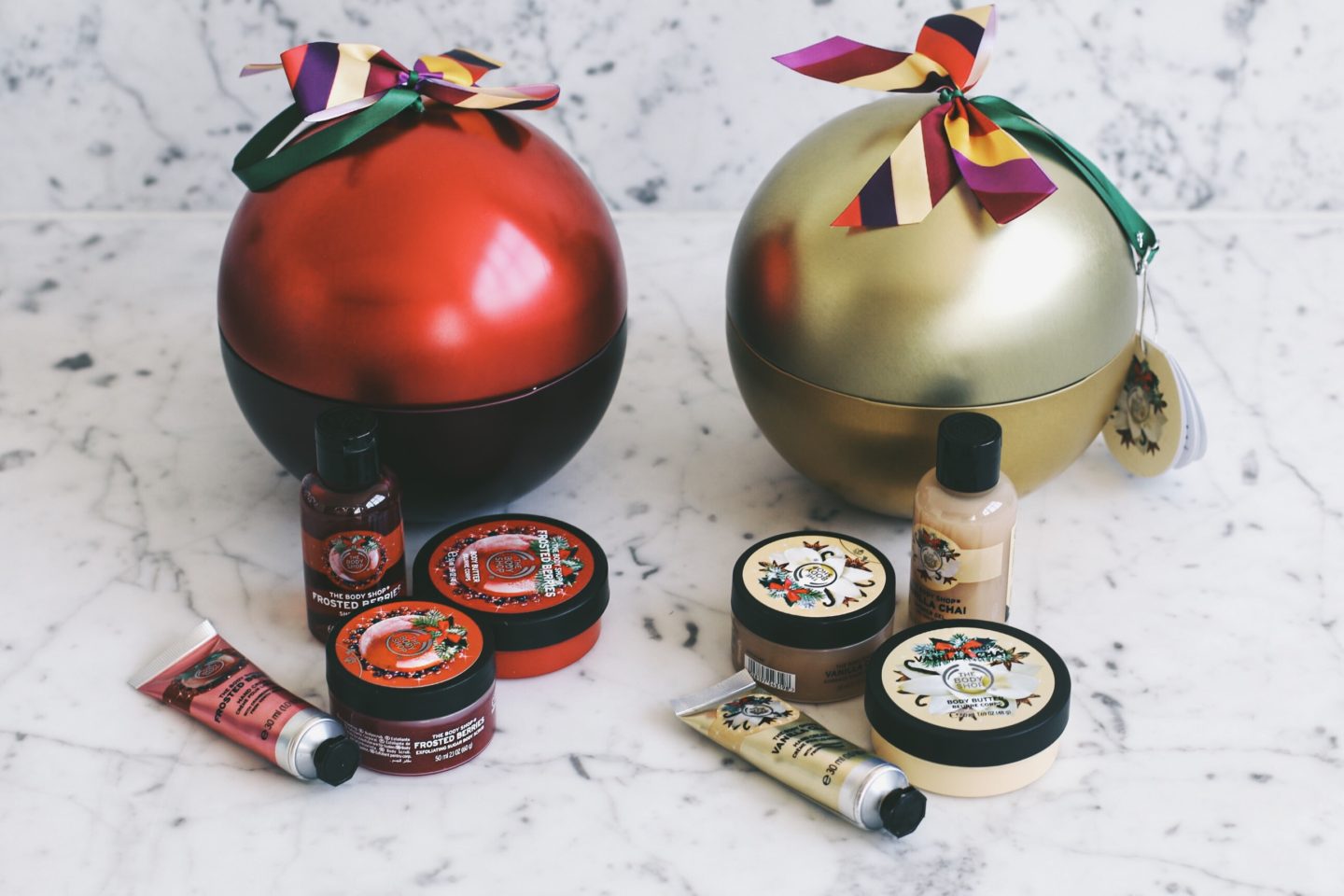 I've always found The Body Shop to be a pretty failsafe haven for any beauty related gift giving- also great that they do not test on animals so if you're buying a Kris Kringle gift for someone who you don't know very well, you know something from The Body Shop is a safe bet. These Festive Tins are definitely a "bang for your buck" option but I always find The Body Shop body products (their body butters in particular) to be really amazing quality. I couldn't go past the packaging of these Festive Tins- they're so fun, they come with four products in them (shower gel, body scrub, body butter and hand cream) plus they double as a decoration once you've opened them. My favourite festive season scent is Vanilla Chai, closely followed by Frosted Berries.
Shop here: The Body Shop Festive Tins in Frosted Berries and Vanilla Chai, $30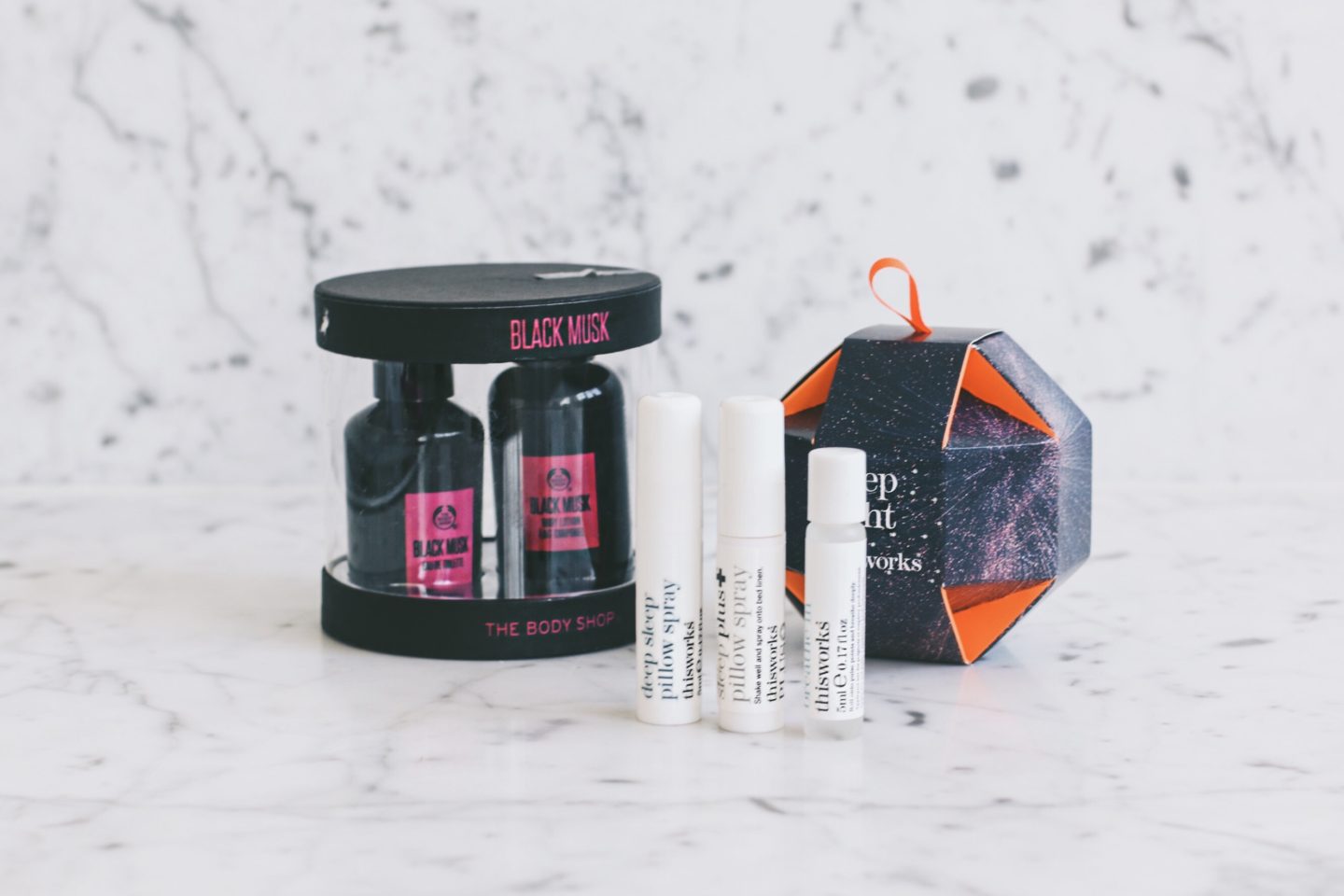 Black Musk has been my favourite Body Shop scent for about a hundred years and it has stood the tests of both time and my nostrils. If you want to give a gift within the same price range as the aforementioned Festive Tins but want something that looks a little more luxurious, I strongly recommend this Black Musk Duo. It comes with a 30mL Black Musk Eau De Toilette and a Black Musk Body Lotion and it looks really luxurious for only 30 bucks.
Shop here: The Body Shop Black Musk Duo, $30
I can say in all sincerity that there is not one person in my life who claims they are getting enough sleep, so this This Works Sleep Tight set would be appreciated by just about anyone on the receiving end. It comes in a cute festive ornament and contains minis of This Works' widely lauded Deep Sleep Pillow Spray, Sleep Plus Pillow Spray and Stress Check Breathe In. Would also be a perfect gift for someone who already uses these products but travels a bit and doesn't want to cart around the full sizes. Also good for yourself if you want to try these without committing to the full size products straight away.
Shop here: This Works Sleep Tight, $24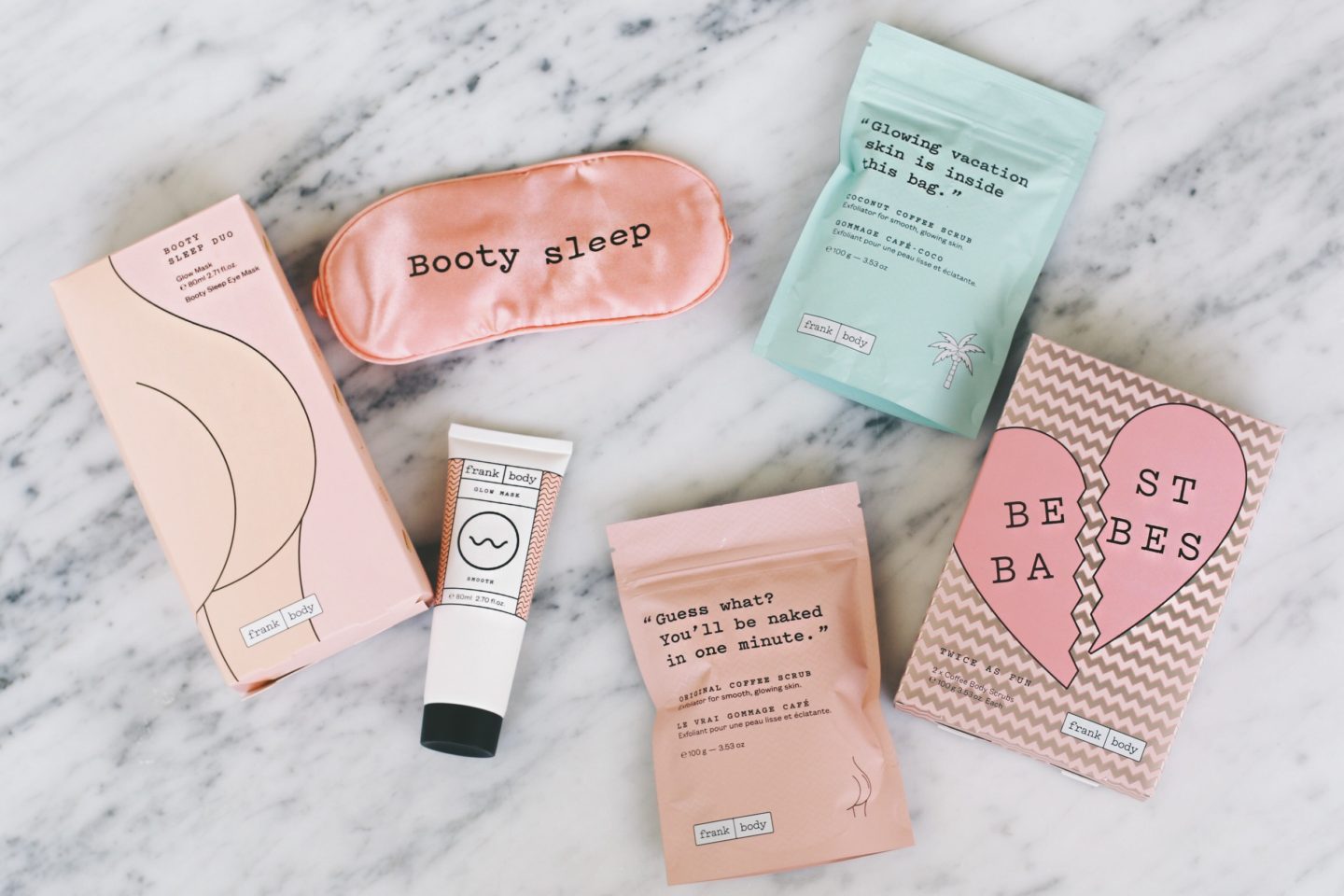 It would be remiss of me not to include Frank Body in any gift guide of mine as they really are one of my favourite companies. The Twice As Fun kit contains two of Frank's famous coffee scrubs (there are two variations in each kit, pictured are the Original and Coconut) that you can either keep for yourself, give away or divvie up with your bestie. There's a reason this brand has such a strong following as these are, in my very honest opinion, the best coffee scrubs on the market.
Shop here: Frank Body Twice as Fun Kit, $19.95
If this is a Kris Kringle gift and you're not sure if the person you're gifting is a coffee fan, play it safe with the Booty Sleep Duo which contains a Glow Mask (this is literally the skincare equivalent of 8 hours sleep) and the best eye mask I've ever seen in my life. The glow mask is still caffeinated but doesn't have a strong coffee scent.
Shope here: Frank Body Booty Sleep Kit, $24.95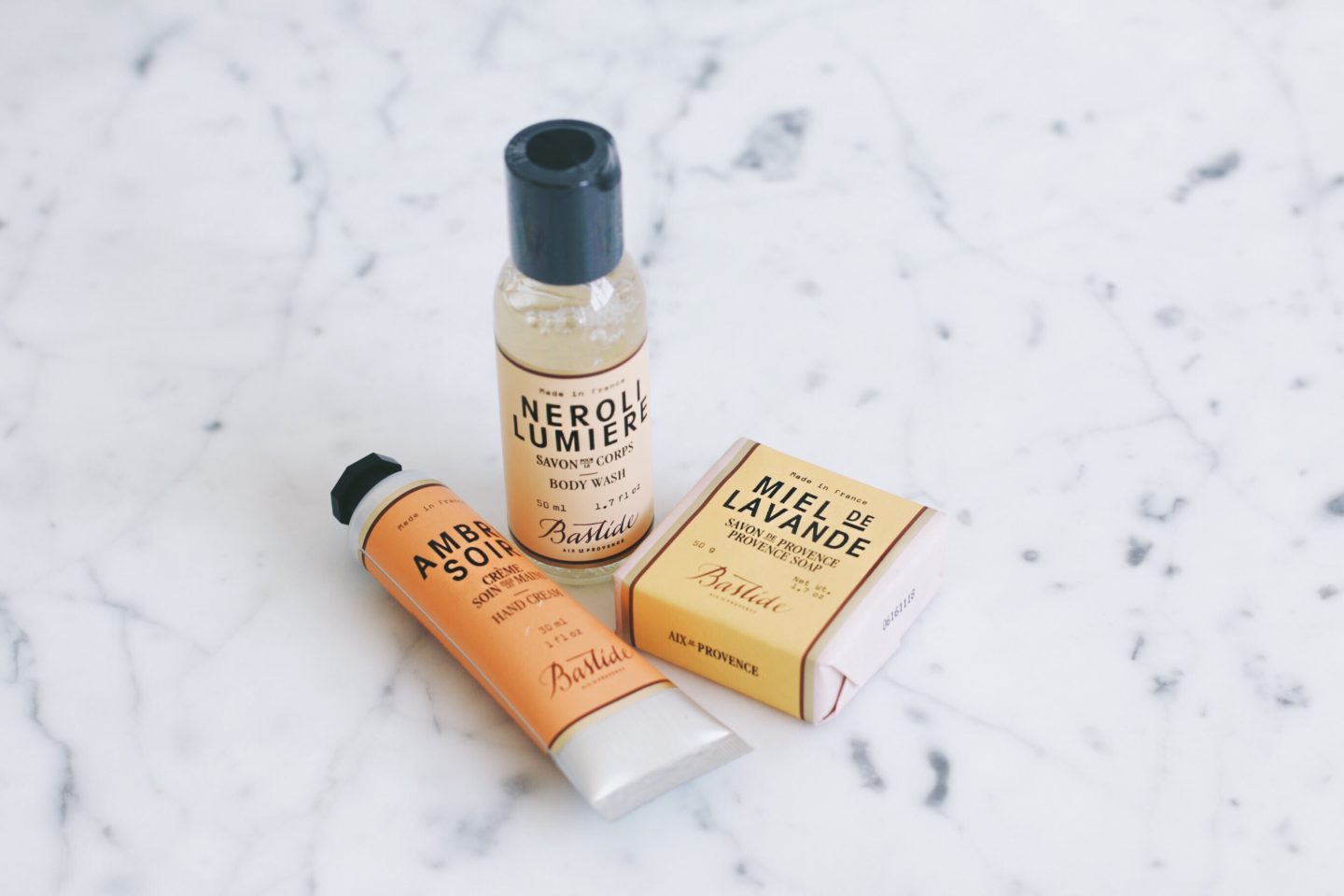 I first received a box of Bastide products a couple of months ago, and I described the scent of the box immediately upon opening as "expensive hotel." Bastide have swiftly become one of my favourite brands because they bring me one step closer to my ultimate goal of cool-French-girl-living, and they make these beautiful minis and travel sized products that I think would make the perfect gift. Unlike most of the products I've included in this guide these aren't limited editions for the holiday season and are actually part of their permanent range, so they're the perfect year 'round pressie for anyone who needs a bit of luxury in their life. I think gift giving should be about giving people things they wouldn't ordinarily purchase for themselves, and luxury soaps and body washes tend to be things people are hesitant to buy.
Shop here: Bastide Ambre Soir Hand Cream, $16
Shop here: Bastide Neroli Lumiere Body Wash, $13
Shop here: Bastide Miel de Lavande Soap, $11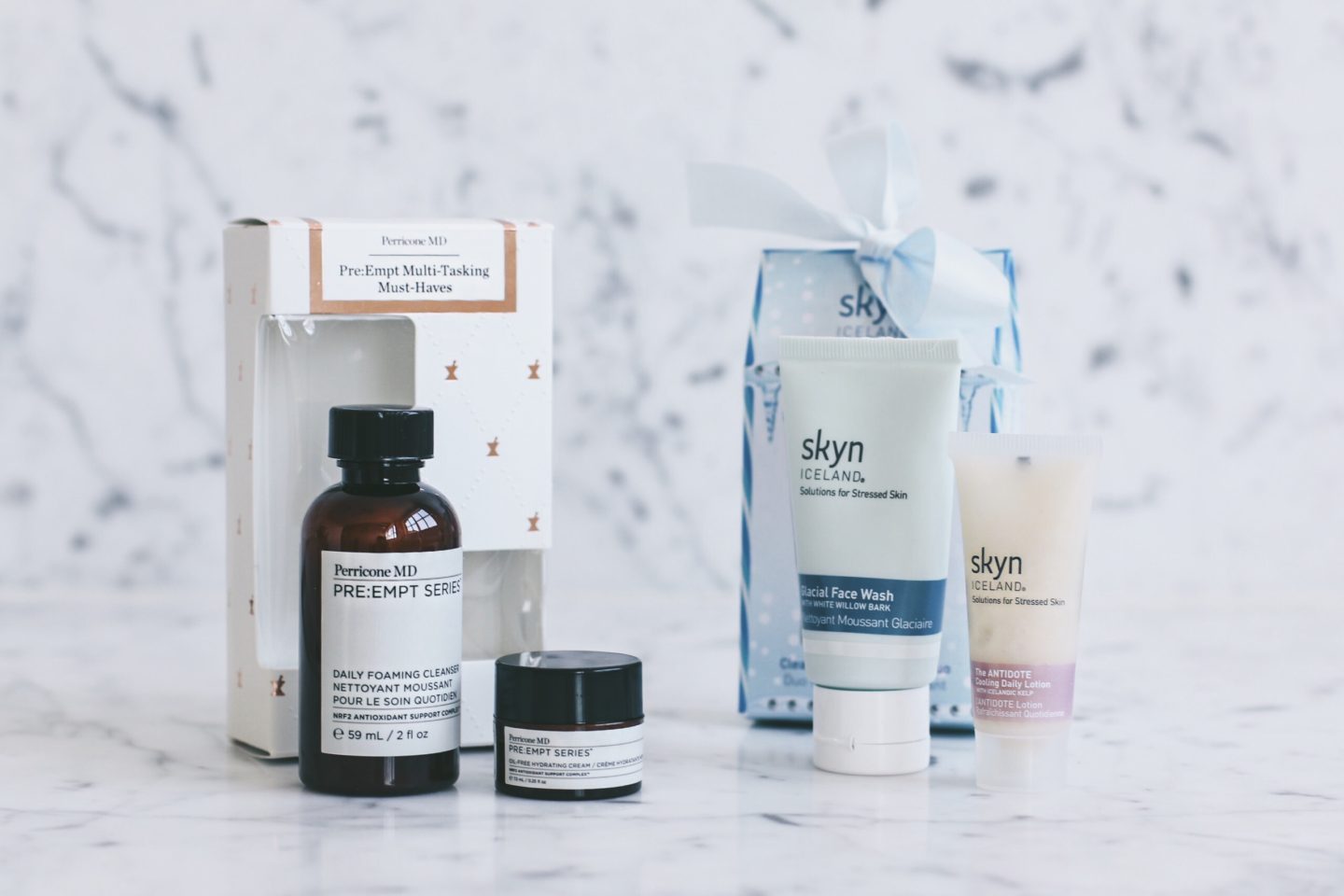 I love travel sets for gifting as they're the perfect way to introduce yourself or a loved one to a really great brand without committing to the full size (particularly great if it's an exxy brand, as it's not worth spending that kind of money on a product that may not be compatible with that person's skin). A great example of this is the Perricone MD Pre:Empt Multi-Tasking Must Haves Set, which contains minis of Perricone MD's Daily Foaming Cleanser and Oil Free Hydrating Cream. The full sized versions of these products cost $55 and $110 respectively, however this gift set is only $27.
Shop here: Perricone MD Pre:Empt Multi-Tasking Must Haves Set, $27
A brand I've only recently been introduced to is Skyn Iceland, a company whose primary focus is stressed skin (stress does so much strange stuff to our body so it's nice to see a brand with that at the forefront of their product development). For the holidays Skyn have introduced a Mini Cleanser and Moisturiser Duo that I think would be the perfect KK or stocking filler for anyone who frequently flies and loves a streamlined routine.
Shop here: Skyn Iceland Cleanser and Moisturiser Mini Duo, $17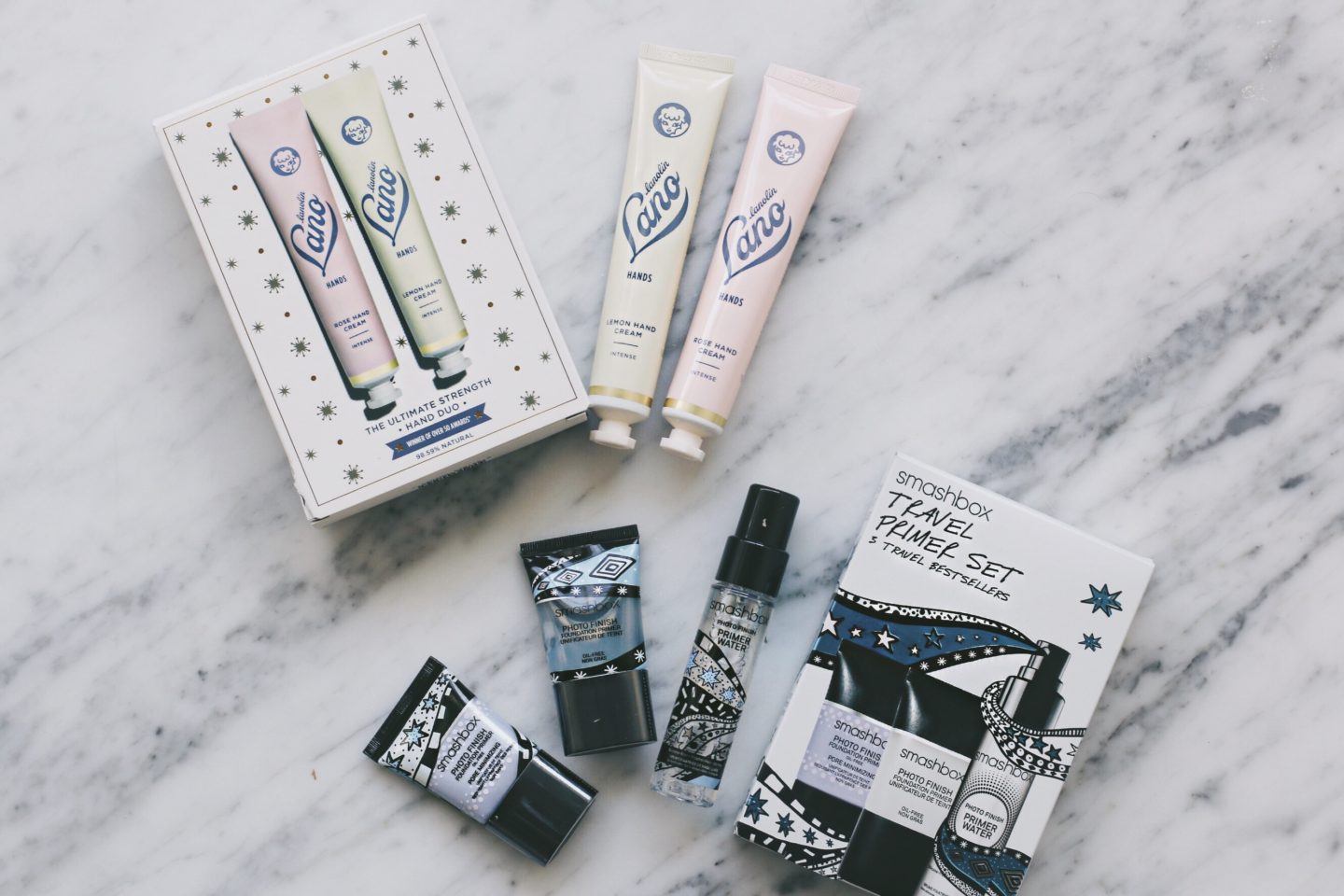 It has become a running joke amongst my friends that I must be sponsored by farmers because I talk about Lanolin so often, but it really is the best ingredient for dry lips and hands. Lanolips are behind some of my favourite lip balms and hand salves (they're the favourites of a lot of people it seems as they've won countless awards here and internationally), and for Christmas they've released a Lanolips Limited Edition Holiday Hands Duo. This is another one you can either divvie up or gift as a set, meaning your mate can pop one in her bag and keep one on the desk or similar.
Shop here: Lanolips Limited Edition Holiday Hands Duo, $26.95
Smashbox do some of the best primers I've ever tried, and the number of awards they've won over time speaks volumes about the brand. The Smashbox Travel Primer includes their best selling Photo Finish Foundation Primer, Photo Finish Pore Minimising Foundation Primer and Photo Finish Water Primer, and although they're "travel sizes" I think these are really good given that a little goes a long way with primer. This would be the perfect gift for any serious makeup collectors or even artists so they can add some scope to their kit. Also great coming into summer as makeup tends to slip and slide and migrate south in the heat.
Shop here: Smashbox Travel Primer Set, $27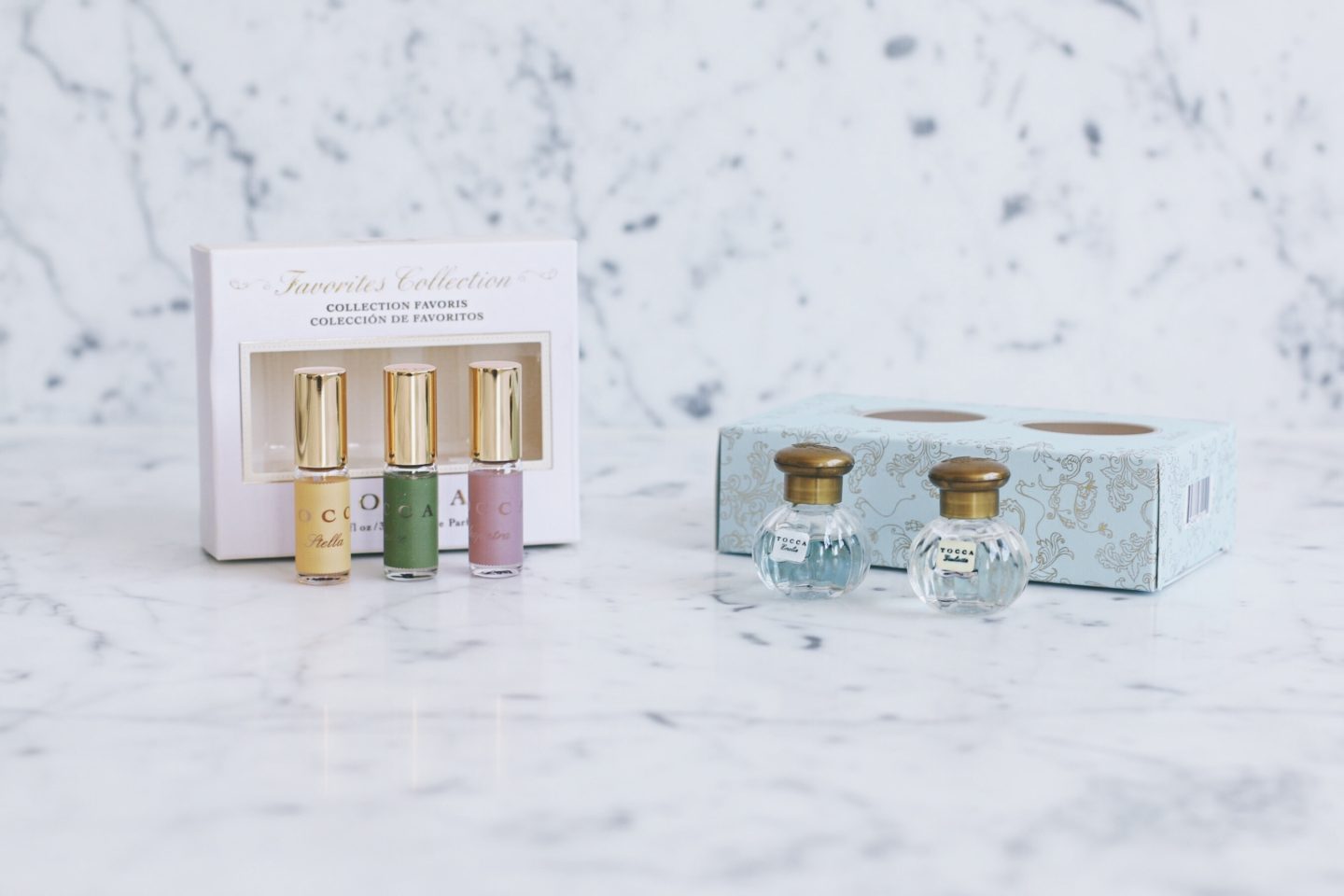 I mentioned earlier that buying fragrance as a gift can be a danger zone, but I feel that goes out the window with minis and gift sets particularly if the set comes with a few options. Tocca fragrances are inspired by European travel and was birthed out of St Lucia, and these limited edition holiday sets are the perfect introduction to this luxury brand. The Tocca Favourites Collection contains three rollerball scents (Florence, Cleopatra and Stella) while the Charming Duo includes two mini sprays (Emilia and Giulietta).
Shop here: Tocca Favourites Collection, $26
Shop here: Tocca Charming Duo, $22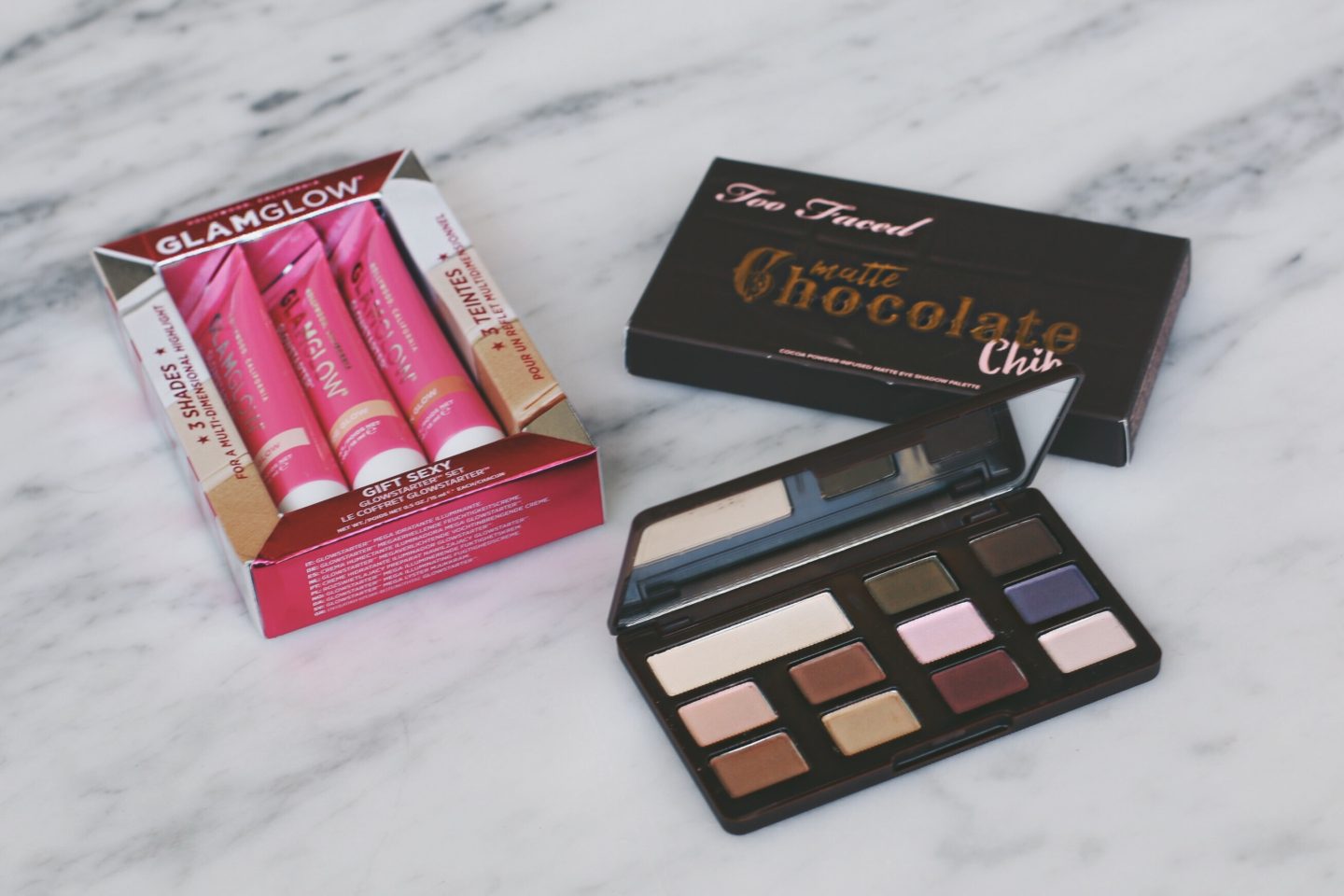 GlamGlow are another one of these "cult following" brands that make it easy to try out their products over the holiday season with little commitment. Their Glowstarter Mega Illuminating Moisturisers are highlighter/primer/moisturiser hybrids that come in three illuminating shades, so it's nice to be able to try all three at one before buying the full size. This set works across all skin tones and each tube is 15g, which will last you for quite some time. Very nice products for a "lit from within" glow, and I love when makeup comes from a skincare focused brand as I feel like it'll have less gunk in it.
Shop here: GlamGlow Glowstarter Mini Set, $36
Too Faced's Matte Chocolate Chip Palette is a gift I have given myself this year as it contains 11 purely matte eyeshadows- I find it nearly impossible to find a completely matte palette that has both great shades and great colour pay off. You get a nice spectrum of smokes and pastels here so you can put so many looks together, and most importantly the shadows smell of chocolate. Don't try eating it though please.
Shop here: Too Faced Matte Chocolate Chip Eyeshadow Palette, $38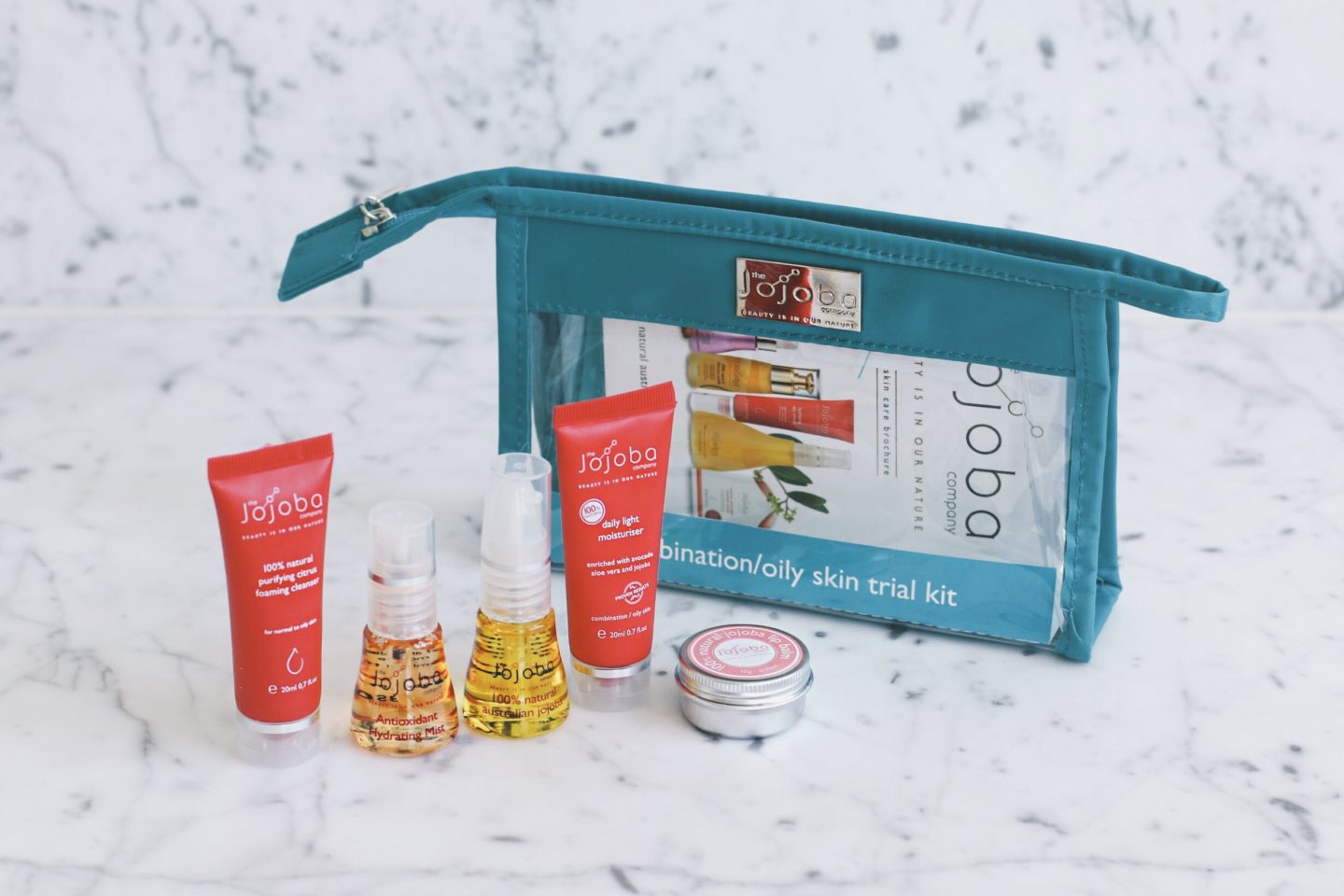 I feel really confident in gifting Jojoba Company products as they're entirely toxin free and natural so you're safe even if you're buying for someone with quite sensitive and reactive skin. This Skin Trial Kit is, again, perfect for travellers or for brand introduction as it contains a cleanser, hydrating mist, Jojoba oil, light daily moisturiser and lip balm. It's often easy to dismiss natural products as not really working, but these have all been clinically tested and I also happen to be a huge fan of their pure jojoba oil if that counts for anything.
Shop here: The Jojoba Co Combination/Oily Skin Trial Kit, $24.95
Sincere and special thanks to the teams at Mecca Brands, Frank Body, Tailormaid PR, Sarah Humphries Agency and One Daydream PR.