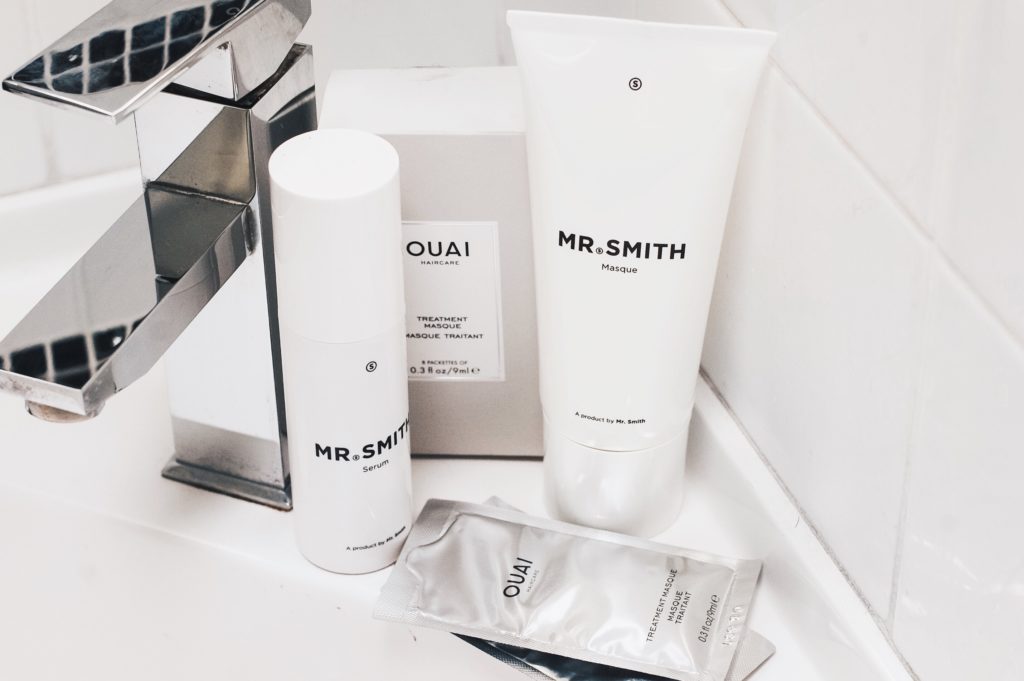 I imagine you've read the title of this post, then you've looked at the feature image, and now you're thinking 'That seems like an awful lot of products for a post that's meant to be about being lazy.' Before I explain why that is, I should clear up any doubts about me being truly and inherently lazy by pointing out that I shot these images close to a fortnight ago and hadn't bothered to write the accompanying article. The reason I've included so many products here is because I firmly believe that if you put nice things on damp hair, your dry hair will be similarly nice and easier to tame. Hair that is easier to tame requires less styling (or in my case no styling at all, because I hate it), which means less time fussing over your hair and more time to live fast and loose. A truly lazy girl wouldn't even have the time to read this, but I relate to the kind of lazy who lies on the couch scrolling through Instagram and reading beauty blogs instead of making valid contributions to society/her house/her own life/etc. Fast and loose baby.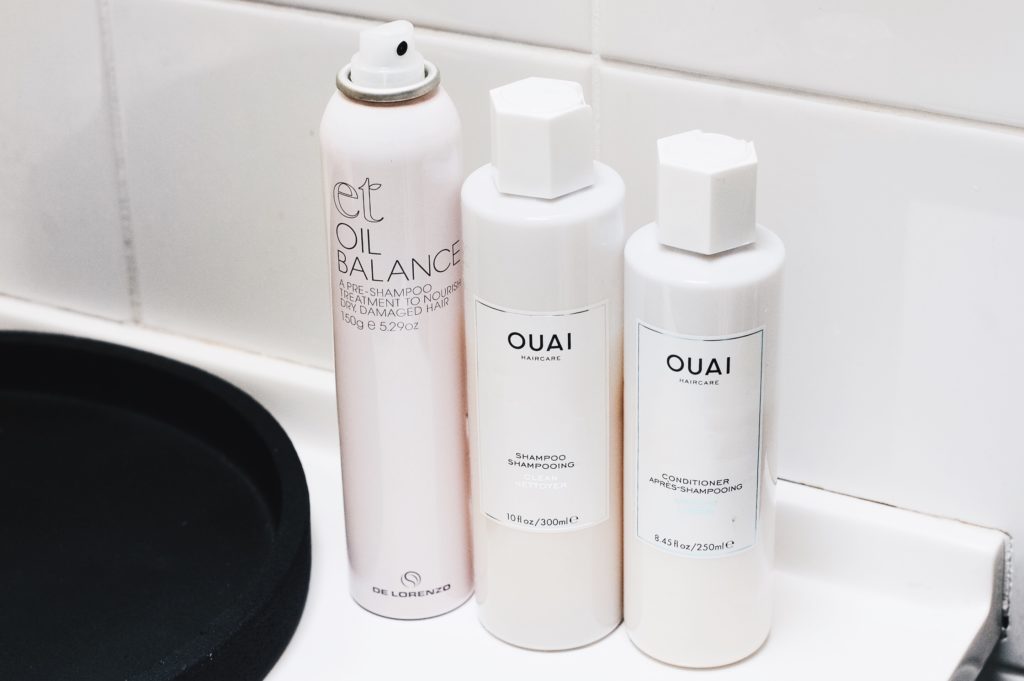 WASHING & CONDITIONING
For a really long time I just used whatever shampoo and conditioner happened to be in my shower (I'm not sure how it got there- my parents had mentioned something about going out and doing grocery shopping but that's not a concept I've been fully able to get my head around) and until recently, even after having tried "high end" shampoos and conditioners, I still believed the contents and the results to be the same as Home Brand and the true heavy lifting (literally, in my sense, given that I have enough hair for about 3 humans) was done by leave-in products and treatments. Then I started using Ouai by Jen Atkin and my response was something along the lines of "Hey, this is nice," which doesn't sound like a huge rap but it's high praise from someone who'd never had a particularly emotional response to haircare previously. The real test was when, for one night only (read that out loud without singing it to the tune of Dream Girls I double dare you- it's a trap you can't do it), I went back to my Sunsilk or my Fruit whatever. My roots felt oily, my ends felt dry and I felt like a hot mess who didn't have her life together (which is the case most days but at least I usually have good hair whilst having a psychotic break). When I went back to using Ouai, the sun came out after several days of drizzle. I'm not a meteorologist, but it seems like a pretty huge coincidence.
I also want to quickly touch on Oil Balance from De Lorenzo's Essential Treatments range. This is described as a "pre-shampoo" treatment, which struck me as an unnecessary step when it first landed on my desk. The label states that it contains a blend of natural ingredients that mimic the natural oils of your scalp, and you apply it to your hair and it "balances" it by ensuring your roots aren't too oily, your ends aren't too dry, and you just hit a nice Goldilocks porridge level of just right. This all seemed like a bit much to me, but after a good month of use you can blow me over and call me Papa Bear because my god this product actuallydoes what it claims to do! Balanced hair means less washing and conditioning, which means more time to be lazy.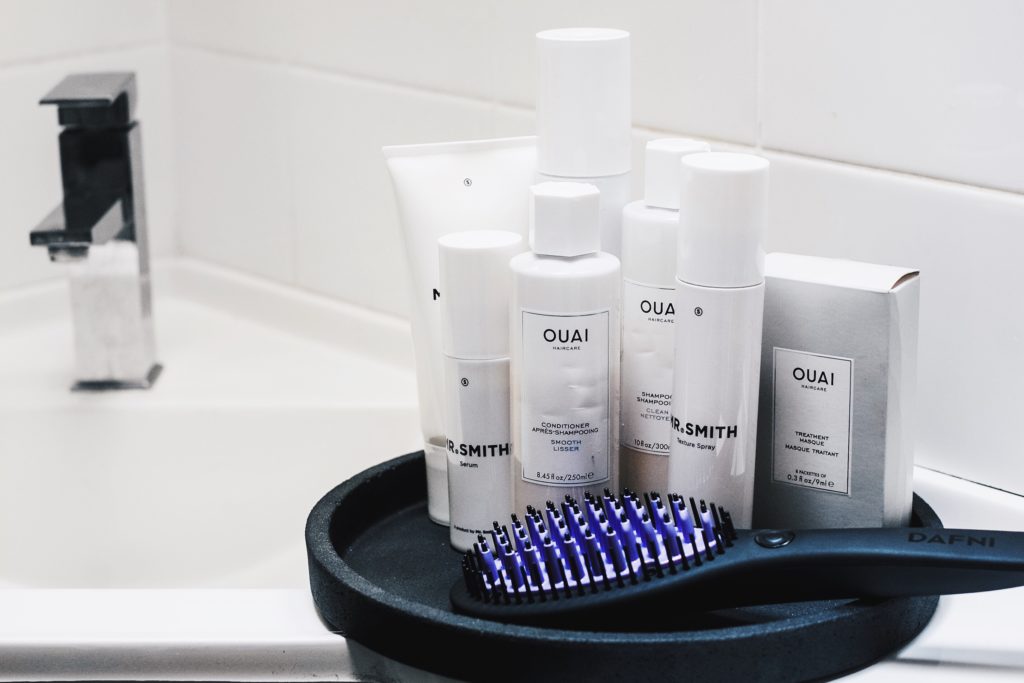 TREATMENTS
The treatment part of haircare has always been my favourite, given my aforementioned cynicism towards shampoos and conditioners as far as improving the overall quality of the hair. I've tried pretty much every post-wash oil, serum and treatment under the sun (my hair is as dry as it is thick- and it's really thick) but I find the majority of them to just weigh down my hair and create what feels like a film over my strands. My all-time favourite, and one I can't imagine I'll be moving away from in the foreseeable future, is Mr Smith's Serum. It's lightweight but it does what I need it to do- 2 pumps through the lengths of my hair is all I need to stop my ends feeling like straw, so that's a plus. I've found that masks often don't do a great deal for me either (you obviously have to wash out a mask, and I've always felt like the good stuff just vanished after a rinse), but in the last couple of months I've found 2 that I love, by Ouai and Mr Smith. Ouai feels a bit more lightweight (following Jen's suggestion, I've been applying it before working out because the heat makes it absorb nicely into the hair, and that way I'm multitasking so I have more time to live fast and loose), whereas the Mr Smith Masque is pretty heavy duty and does amazing things for freshly coloured strands (I go from blonde to brunette every 6 months so this is important for me. It might not be important to you but this is my blog).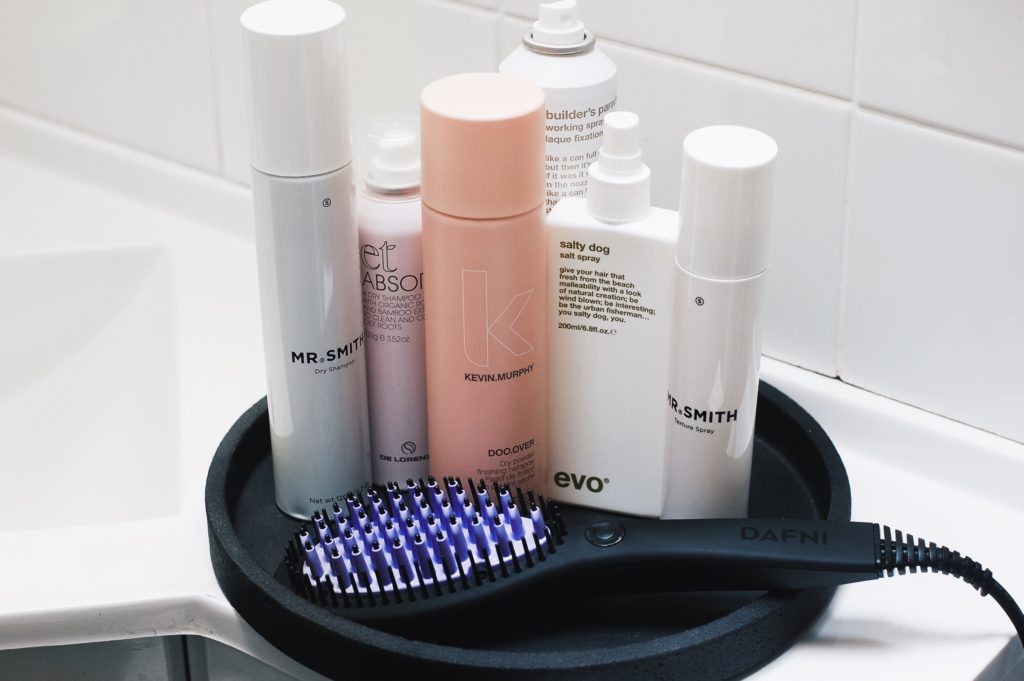 STYLING
Again, this seems like a lot of products for someone who truly hates styling her hair, but all of these products have one thing in common- they make your hair look messy. I happen to think messy is very sexy and on the rare occasion (and I really do mean rare- I can't remember the last time I used even a hairdryer) that I heat style my hair, I just prefer the way it looked prior to styling. For sexy beach hair, I spray some Evo Salty Dog or Mr Smith Texture Spray (Mr Smith do a Sea Salt Spray too which I've not tried, but this does exactly what I'd expect a sea spray to do) over damp hair, then scrunch it in and let it air dry. If I want to add more sexy mess and volume to dry hair, I'll spray some Evo Builder's Paradise (this one is particularly good for the 6 months a year when my hair is short) or Kevin Murphy Doo Over into my hands then scrunch it into the roots (there's a pattern here), and if I'm really trying to put off re-washing my hair then I rely very heavily on Mr Smith or De Lorenzo's Dry Shampoo.
I mentioned that I never heat style my hair, but on the odd occasion I combat hair oiliness by doing a bit of slick-back. Sleek hair is great because you get out of washing and drying your hair (fast and loose), but it usually does require a bit of straightening to take the look from unintentionally oily to intentionally sleek. Straightening my hair under these circumstances had become a necessary and time consuming evil until the Dafni Brush landed on my desk a few weeks ago. It takes as long as brushing through the ends of your hair and it does a better job than any straightener I've used, and I haven't burnt myself whilst using it which is a surprising bonus. Fast and loose.